Product News: Electrical Equipment & Systems, Electronic Components & Devices
TVS Diode Array increases automotive electronics reliability.
Press Release Summary: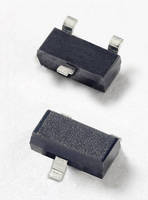 July 3, 2014 - AEC-Q101 qualified SM24CANA Series protects automotive Controller Area Network (CAN) Bus from damage due to ESD, electrical fast transient (EFT), and other overvoltage transients. With low dynamic resistance of 0.7 Ω typ and low capacitance fo 11 pF typ, this 200 W TVS Diode Array (SPA® Diodes) absorbs repetitive ESD strikes above max level specified in IEC61000-4-2 (±8 kV) without performance degradation and dissipates 3 A of surge current with minimal clamping voltages.
Original Press Release
New 200W TVS Diode Array from Littelfuse Offers Superior Clamping Protection than Similar Market Solutions
Press release date: June 24, 2014
AEC-Q101 qualified device ensures maximum reliability for automotive electronics

CHICAGO – Littelfuse, Inc., the global leader in circuit protection, has introduced the SM24CANA Series 200W TVS Diode Array (SPA® Diodes), for  protecting the automotive Controller Area Network (CAN) Bus from damage due to electrostatic discharge (ESD), electrical fast transient (EFT), and other overvoltage transients. It absorbs repetitive ESD strikes above the maximum level specified in the IEC61000-4-2 international standard without performance degradation and safely dissipates 3A of surge current with very low clamping voltages. This AEC-Q101 qualified device helps maximize the reliability of automotive electronics applications like drive-by-wire (CAN BUS) systems, engine control modules, powertrain electronics, anti-lock brakes, airbags and other safety circuits. It is also suitable for use in industrial CAN bus applications that are susceptible to damage due to lightning-induced transients or ESD.

The SM24CANA Series' lower dynamic resistance provides a 10 percent improvement compared to similar solutions available in the market.  It provides the consumer with a higher order protection solution, helping to extend the life of mission critical equipment. " said Chad Marak, product director for the TVS Diode Array product line. "Providing more robust, ESD protection while meeting all of the requirements of the rigorous automotive AEC-Q101 qualification regime, I expect the SM24CANA to be a new benchmark for automotive circuit protection applications."

The SM24CANA Series 200W TVS Diode Array offers these key benefits:
Enhanced ESD and surge protection permits worry-free product implementation in automotive environments, with protection well in excess of the IEC61000-4-2 standard (±8kV).

Low dynamic resistance (0.7Ù typical) ensures superior clamping protection, providing a 10 percent reduction in clamping voltage versus similar market solutions. This makes the SM24CANA Series ideal for protecting automotive ICs from catastrophic failure to maximize system reliability.

Low capacitance (11pF typical) helps to preserve signal integrity and minimizes data loss.

AEC-Q101 qualified for use in automotive electronics, which ensures maximum reliability.

Availability
The SM24CANA Series 200W TVS Diode Array is available in quantities of 3,000 in tape and reel packaging. Sample requests can be placed through authorized Littelfuse distributors worldwide. For a listing of Littelfuse distributors, please visit Littelfuse.com.

For More Information
Additional information is available on the SM24CANA Series product page and datasheet. If you have technical questions, please contact: Chad Marak, Product Director, cmarak@littelfuse.com.

About Littelfuse
Founded in 1927, Littelfuse is the world leader in circuit protection with growing global platforms in power control and sensing. The company serves global customers in the electronics, automotive and industrial markets with technologies including fuses, semiconductors, polymers, ceramics, relays and sensors. Littelfuse has over 7,500 employees in more than 35 locations throughout the Americas, Europe and Asia. For more information, please visit the Littelfuse website: littelfuse.com.


 
Media Contact:
Rhonda Stratton
Global Marketing Communications Manager
Electronics Business Unit, Littelfuse, Inc.
773-628-0644
rstratton@littelfuse.com
https://twitter.com/littelfuse