Product News: Electronic Components & Devices
TCXOs provide long-term precision.
Press Release Summary: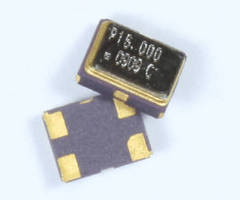 April 4, 2014 - Measuring 2.5 x 2.0 mm and 3.2 x 2.5 mm, respectively, Models TC02 and TC03 are suited for applications with minimal circuit board space and where accuracy of ±.5 ppm or better is required. Voltage tunable variants, Models TV02 and TV03, are also available. Typical applications include telecommunications, handheld test equipment, avionics, military, and industrial controls.
Original Press Release
Precision Oscillators in Miniaturized Packages PDI introduces Major TCXO Expansion
Press release date: March 18, 2014
Middleton, WI - Precision Devices Inc. (www.pdixtal.com), a member of the Avrio Technology Group, LLC., has announced a major expansion of its TCXO (Temperature Compensated Crystal Oscillator) product line.  These new products target applications where available circuit board space is at a premium or products that require excellent long term precision.

These new miniaturized products are ideally suited for all types of applications where small size (down to 2.5 x 2.0mm) and/or accuracy (to +/-.5ppm or better) is required.  The TC02 (2.5 x 2.0mm) and TC03 (3.2 x 2.5mm) TCXO products in addition to their VCTCXO (Voltage Tunable TCXO) variants (TV02 and TV03) are available now.

"These new TCXO and VCTCXO products are perfect for Telecommunication, handheld test equipment, avionic, military, and industrial controls", according to Tom Sokol, Sr. Vice President of Sales.  "These are the initial launches.  We expect more products with 'Application Specific' performance to be introduced in the next quarter."

For more information on the new TCXOs,VCTCXOs, any of the PDI products, or for a list of representatives and distributors, please visit www.pdixtal.com or email sales@pdixtal.com

COMPANY INFORMATION

About Precision Devices:
Precision Devices (PDI) is part of Avrio Technology Group, LLC. PDI is a leading global developer and manufacturer of frequency control and filter products. With an established engineering heritage, PDI offers a comprehensive range of precision engineered crystals, LC filters, crystal filters, clock oscillators, voltage controlled crystal oscillators (VCXOs), temperature compensated crystal oscillators (TCXOs) and oven controlled crystal oscillators (OCXOs). PDI supports customers in a wide range of industry sectors including avionics, space, defense, automotive, telecommunications and consumer. PDI is an ISO-9001:2008, ISO-14001, MIL-STD-790, and MIL-PRF-38534 certified company. PDI is able to offer a comprehensive technical and logistical support and solutions to meet specific customer requirements. For further information on PDI frequency control products, please visit www.pdixtal.com or email sales@pdixtal.com

About Avrio Technology Group, LLC:
Avrio Technology Group, LLC is an international group of RF related companies with the objective of increasing component and software value to the customer with manufacturing and stocking locations in Europe, Asia and North America.
www.avriotechnology.com.

For more information contact:
Dick  Thompson
Avrio Technology Group LLC
8840 N Greenview Drive
Middleton, WI 53562
800.274.9825
marketing@avriotechnology.com