Product News: Test & Measuring Instruments, Computer Hardware & Peripherals
T1 E1 Boards monitor line conditions.
Press Release Summary: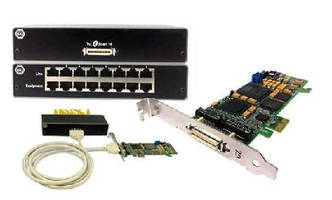 September 2, 2014 - Featuring 16 Receive-only ports and PCIe (x1) bus interface, tScan16™ T1 E1 Analysis Hardware supports voice and data capture, monitoring, and analysis. Boards are suitable for monitoring T1 E1 line conditions such as frame errors, bipolar violations, alarms, frequency, and power level. Available with GUI for Windows® 7 and 8 operating systems, boards also support analysis of ISDN, SS7, Frame Relay and Multilink Frame Relay, PPP and Multilink PPP, HDLC, and other protocols.
Original Press Release
GL Announces High-Density 16 Ports T1 E1 Analysis Hardware
Press release date: August 25, 2014
Gaithersburg, Maryland, USA — GL Communications Inc., announced today its latest T1 E1 Analysis Hardware tScan16TM (16 T1 E1 Rx only ports) boards.

Speaking to reporters, Mr.Jagdish Vadalia, a Senior Manager for Product Development of the company said, "GL's tScan16TM is a high-density T1 E1 board with 16 ports and the newer PCIe (x1) bus interface. The sixteen T1 E1 ports are Receive-only ports optimized for high performance voice and data capture, monitoring, and analysis requirements. tScan16™ extends the family of GL's T1 E1 platforms with greater density, increased ports, and reduced power."

He added, "tScan16™ boards are available with user-friendly GUI for Windows® 7 and 8 Operating Systems and provides software selectable 16-Receive-only T1 or E1 interfaces with convenient high density cabling."

Mr. Vadalia further added, "tScan16™ boards can be used for monitoring T1 E1 line conditions such as frame errors, bipolar violations, alarms, frequency, and power level. The boards provide the capability for analysis of ISDN, SS7, Frame Relay and Multilink Frame Relay, PPP and Multilink PPP, HDLC, and many more protocols.

tScan16™ boards also support comprehensive analysis of Voice, Data, Fax, Protocols, and Digital signals, including Echo and Voice Quality testing. And the boards can also be used for Call Recording, Analysis, and Monitoring hundreds to thousands of calls."

T1 E1 Monitoring (Receive) Applications in tScan16™

Basic Applications
Byte Values & Binary Byte Values
Signaling bits, Power Level, DC Offset and Frequency
Multi-frames, and Real-time Multi-frames
T1 E1 Data as Real-time Bitmap
Timeslot Window
ASCII Timeslot Display
Oscilloscope & Power Spectral
Audio Monitoring & Active Voice Level
BERT
Windows Client / Server
Manual, Automated Record Files

Optional Applications
Protocol Analysis: ISDN, HDLC, SS7, GSM, GPRS, UMTS, Frame Relay, ATM, PPP, TRAU, T1 Facility Data Link , E1 Maintenance Data Link (Sa HDLC, and SSM) and more
WCS Modules: Rx files, digits, Multi-channel BERT, DSP operations, Dynamic DSP capability
Capture & Analysis : DTMF / MF / MFCR2, Digits, Tones, Voice, Modem, Raw Data
Call Data Records
Voice Band Analysis Software
Multi-Channel BERT
Protocol Identifier
Signaling Transitions Recording
Real-time Strip Chart
Real-time Multichannel Audio Bridge
Multiplex / Demultiplex Software
Network Surveillance, Voice Quality Testing

About GL Communications Inc.,
Founded in 1986, GL Communications Inc. is a leading supplier of test, monitoring, and analysis equipment for TDM, Wireless, IP, and VoIP networks. Unlike conventional test equipment, GL's test platforms provide visualization, capture, storage, and convenient features like portability, remote operation, and scripting.

Our test solutions cover wide array of networks – 4G (LTE), 3G, 2G, IP, Ethernet, T1, T3, E1, E3, OC-3/STM-1, OC-12/STM-4, and analog.

GL's tools are widely used by the telecommunication industry for: conformance testing, automated stress/load testing, and performance assessment, and analysis. For more information about GL's complete line of products,

Contact:
Shelley Sharma
Phone: 301-670-4784
E-mail: info@gl.com