Product News: Electrical Equipment & Systems, Electronic Components & Devices
Switching Regulators serve diverse power supply applications.
Press Release Summary: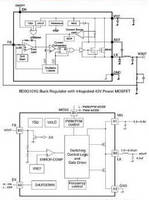 March 24, 2014 - DC/DC switching regulators meet operating voltage, temperature, and layout requirements of space-constrained power supply applications. While BD9G101G DC/DC converter features 6–42 V input range and internal high-side 42 V power MOSFET and provides 0.5 A DC output, 6 MHz synchronous step-down switching regulator BU9000xGWZ utilizes ultra-low current PFM mode and provides up to 1.0 A load current with input range of 4.0–5.5 V.
Original Press Release
New ROHM Semiconductor Switching Regulators Meet High Operating Voltage, Extended Temperature, and Small Layout Requirements
Press release date: March 18, 2014
Enabling ultra-high power efficiency at a competitive price point, ROHM's new DC/DC regulators are optimized for broad range of industrial and consumer high performance power supplies

SANTA CLARA, Calif. -- ROHM Semiconductor today introduced two new switching regulator series designed to meet the high operating voltage, extended temperature, and small layout requirements demanded of today's high performance, space-constrained power supply applications.  Delivering extremely high power efficiency over a wide current load, ROHM's new switching regulators are optimized to support a comprehensive range of industrial, consumer and battery-powered equipment power supplies. As users demand increased performance from smaller power supply applications, ROHM's expanded DC/DC switching regulator line offers significant efficiency advantages over other voltage regulators and permits designers to further shrink board sizes.

ROHM's BD9G101G DC/DC converter features a high and wide input voltage range (VCC=6V~42V), an integrated internal high-side 42V power MOSFET, and provides 0.5A of DC output.

ROHM's high-efficiency 6MHz synchronous step-down switching regulator BU9000xGWZ utilizes an ultra-low current pulse-frequency modulation (PFM) mode and provides up to 1.0A of load current with an input voltage range from 4.0V to 5.5V.

"ROHM's new switching regulators deliver in-demand integrated features and smaller sizes, allowing designers to reduce space by more than 20%.  And all this value comes at a more competitive price," said Mark Aaldering, Sr. Director of Technical Marketing at ROHM Semiconductor.  "With increased power efficiency and wide voltage input capabilities, customers can implement reduced power and energy saving features that improve system reliability for a broader range of applications."

Pricing: US$0.63 (BD9G101G)
(3000pcs) US$0.76 (BU9000xGWZ)

Availability: Mass Production Now

Delivery: 14 weeks ARO

Applications:
--  Battery-Powered, Secondary POL, Distributed Power Supplies
--  Power supplies in:
-  LCD TVs
-  Broadband/Communications Equipment
-  Printers
-  Notebook/Tablet PCs, Servers
-  Gaming Equipment
-  Storage Devices (HDDs/SSDs)

Evaluation boards supporting the two products are available through distribution.  For more information on ROHM's expanded line of switching regulators, please click here.

About ROHM Semiconductor
ROHM Semiconductor is an industry leader in system LSI, discrete components and module products. ROHM's proprietary production system, which includes some of the most advanced automation technology, is a major factor in keeping it at the forefront of the electronic component manufacturing industry. In addition to its development of electronic components, ROHM has also developed its own production system so that it can focus on specific aspects of customized product development. ROHM employs highly skilled engineers with expertise in all aspects of design, development and production. This allows ROHM the flexibility to take on a wide range of applications and projects and the capability to serve valuable clients in the automotive, telecommunication and computer sectors, as well as consumer OEMs.

For more information:
ROHM Semiconductor
2323 Owen Street
Santa Clara, CA 95054
Phone: 408-720-1900
Email: rohmmarketing@rohmsemiconductor.com