Product News: Electrical Equipment & Systems
Surge Protector incorporates end-of-life indication.
Press Release Summary: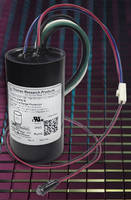 April 17, 2014 - Designed to be utilized for luminaires on electrical mains up to 277 V, EOL3-277-20KA series protects luminaires against surges up to 20,000 A. In-line fusing shuts down LED luminaire to protect it until surge protector is replaced, facilitating diagnosis by maintenance crews while promoting protection. When capabilities of surge protector have been exceeded, included LED lights up to indicate that unit needs to be replaced. Models with local and remote LED indicator are available.
Original Press Release
New EOL Surge Protector Line from Thomas Research Products
Press release date: April 15, 2014
Elgin, Illinois -- Thomas Research Products has introduced an exciting new line of advanced yet cost-effective Surge Protectors that show when they need to be replaced. Thomas Research Products is a leading manufacturer of SSL power solutions and accessories.

The EOL3-277-20KA series Surge Protectors include an LED indicator that lights up when the unit reaches end-of-life, when the capabilities of the surge protector have been exceeded. The indicator also flashes at "power-up" to confirm that the LED is functioning. In-line fusing shuts down the LED luminaire to protect it until the Surge Protector is replaced. These features not only offer advanced protection for the luminaire, they make it easier for maintenance crews to diagnose issues.

Two models are available. One includes a local LED indicator on the unit, while one is designed to operate a remote indicator that can be mounted elsewhere on the luminaire. A remote LED indicator is available with 18" leads. These surge protectors are designed to be utilized for luminaires on electrical mains up to 277V. The compact devices are rated to protect from surges up 20,000 amps and are UL1449 Recognized components. The EOL3 is also CE certified.

TRP's popular Surge Protectors provide an extra level protection for LED luminaires from dangerous power line transients in commercial applications. They also protect fluorescent and HID luminaires with electronic ballasts. Avoid costly problems in 24/7 outdoor applications, including street lighting, big-box retail, warehouses, parking garages, and transportation facilities. Surge protectors for CCTV systems are also offered. The new EOL series will be available at the end of 2Q 2014.

About Thomas Research Products
Founded in 1997, Thomas Research Products designs and manufactures complete OEM and retrofit solutions for solid state lighting in indoor and outdoor applications. TRP offers DC and AC LED light engines, high-performing LED drivers and power accessories, including surge protectors and step-dimming modules. The company also offers energy-saving electronic lighting controls, including occupancy/vacancy sensors and daylight harvesting controls.

"SSL Solutions Faster Than The Speed Of Light" is a registered trademark.

Thomas Research Products is located at 1215 Bowes Rd., IL 60123.
Tel. 847-515-3057, Fax 847-515-3047
Website: www.trpssl.com
Email: info@trpssl.com