Surge Protector eliminates threat of power crossover.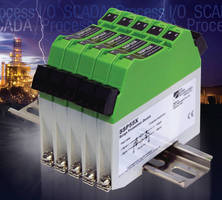 Surge Protector eliminates threat of power crossover.
March 18, 2013 - Self-healing SSP series, suited for general Process I/O applications and higher voltage signal applications for SCADA run over private wire networks,†eliminates surge protection device failures due to continuous overvoltage/over current conditions while adding current limiting protection to circuit. If communication lines are subjected to induced AC power or AC power-cross, SSP responds and draws AC current to†provide over current protection to wiring, load, and loop equipment.

Original Press release

The MTL Instruments Group PLC
9 Merrill Industrial Dr.
Hampton, NH, 03842
USA



NEW MTL Surge Protector Eliminates Threat of Power Crossover


MTL is pleased to announce its new addition of data and signal surge protection to compliment the already extensive offering.

The new SSP self-healing surge protector offers state of the art surge protection with the additional features of AC fault withstand capability and current limiting protection to our traditional and proven hybrid surge technology, adding yet another layer of protection.

The product is suitable for all general Process I/O applications and higher voltage signal applications for SCADA run over private wire networks and is designed to eliminate the most common cause of surge protection device failures (continuous overvoltage/over current conditions) whilst adding current limiting protection to the circuit.

The use of Surge Protection Devices on communication lines has increased significantly over the last number of years. However if the communication lines are subjected to induced AC power or AC power-cross, the surge protector can pose possible safety hazards. In these circumstances, the SSP surge protector will respond and draw AC current providing over current protection to the wiring, the load and the loop equipment.

The SSP's self-healing capability incorporates circuitry to mitigate the hazards of induced AC or AC power-cross up to 240Vrms by stopping the flow of current in milli-seconds to prevent surge protector and wiring damage. Once the AC power is removed, the SSP will automatically begin normal operation.

The single loop design makes the SSP series resilient to sustained over-voltages caused by earth faults and power faults and is packaged in the well-known IOP/SLP enclosure giving a wider range of performance offering.

Further detailed information is available via www.mtl-inst.com or direct from your local MTL office.

About MTL
MTL Instruments, a business unit of Cooper Crouse-Hinds, is a world leader in the development and supply of electronic instrumentation and protection equipment for the process control and telecommunications industries. Many of the world's most critical processes are monitored, controlled or protected by MTL equipment and the Group is distinguished by the quality and reliability of its products, its global network of sales-and-support centres and its acknowledged position as a thought-leader in this high technology marketplace. With 20 dedicated sales centres in 13 countries and a further 131 MTL representatives in 69 countries, MTL's expertise in Intrinsic Safety, Industrial Networks, Surge Protection and Operator Displays/HMI is unsurpassed.

About Cooper Crouse-Hinds
Headquartered in Syracuse, N.Y., Cooper Crouse-Hinds is a subsidiary of Cooper Industries plc (NYSE: CBE) that integrates a comprehensive line of electrical and instrumentation products with expert support, industry insights and local availability, engineering safety and productivity in the most demanding industrial and commercial environments worldwide. Cooper Crouse-Hinds manufactures over 100,000 products, including conduit and cable fittings; enclosures; plugs and receptacles; industrial lighting fixtures; signals and alarms; controls and electrical apparatus; commercial outlet boxes and hubs; and electronic components and protection equipment for process control branded MTL Instruments Group. Cooper Crouse-Hinds products are sold worldwide and meet all local and international code requirements. They are used in general construction or in harsh and hazardous environments across the globe, performing to the highest standard of safety and reliability. For more information, visit www.crouse-hinds.com.

About Cooper Industries
Cooper Industries plc (NYSE: CBE) is a global electrical products manufacturer with 2011 revenues of $5.4 billion. Founded in 1833 Cooper's sustained success is attributable to a constant focus on innovation and evolving business practices, while maintaining the highest ethical standards and meeting customer needs. The Company has seven operating divisions with leading market positions and world-class products and brands, including Bussmann electrical and electronic fuses; Crouse-Hinds and CEAG explosion-proof electrical equipment; Halo and Metalux lighting fixtures; and Kyle and McGraw-Edison power systems products. With this broad range of products, Cooper is uniquely positioned for several long-term growth trends including the global infrastructure build-out, the need to improve the reliability and productivity of the electric grid, the demand for higher energy-efficient products and the need for improved electrical safety. In 2011 fifty-nine percent of total sales were to customers in the industrial and utility end-markets and forty percent of total sales were to customers outside the United States. Cooper has manufacturing facilities in 24 countries as of 2011. For more information, visit the website at www.cooperindustries.com.

For further information please contact:
Mr David Frost
Marketing Director
MTL Instruments
David.frost@cooperindustries.com
+44 1582 407506

Mr Chris Ground
Product Line Manager
MTL Instruments
chris.ground@cooperindustries.com
+44 7899 924301

---


Start Your

Free


Subscription to


Industry Market Trends

.