Product News: Test & Measuring Instruments, Machinery & Machining Tools, Sensors, Monitors & Transducers
Surface Roughness Measuring System serves on production lines.
Press Release Summary: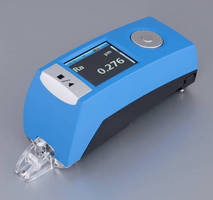 July 18, 2011 - Using array of probes and accessories, ergonomically designed Hommel-Etamic W5 can track 5 separate measurement programs, up to 100 separate profiles, with total storage capacity of up to 10,000 completed measurements. Integrated click wheel and color display with GUI facilitate operation, while support prism centers workpieces reliably on correct measuring position and protects probe for measurements in bores from 12 mm dia. All necessary connection are made via USB interface.
Original Press Release
Versatile Mobile Surface Measurement
Press release date: July 12, 2011
Light and compact in design, easy to operate with long-lasting battery power, the Hommel-Etamic W5 surface roughness measuring system is ideally suited for measurements on the production line. Capable of a wide range of measuring tasks using an extensive array of probes and accessories, the W5 can match the performance of more expensive stationary systems with its accuracy and precision.
The new Hommel-Etamic W5 is ergonomically designed, with the device easily fitting into the user's hand making it simple to precisely position on the workpiece. The W5 is capable of tracking five separate measurement programs, up to 100 separate profiles, with a total storage capacity of up to 10,000 completed measurements.
The integrated click wheel allows the operator to intuitively select device functions. In conjunction with the large color display with graphic interface, this makes operation of the W5 simple and transparent; delivering easy to see results and tolerance evaluations.
More than 800 measurements with one battery charge guarantee a high level of reliability even during frequent use. Measuring results may be quickly printed out on the optional printer-wirelessly via Bluetooth technology.
The roughness probes and measuring instrument electronics are calibrated independently from each other at the factory. This eliminates the need to make regular adjustments to the amplification or to recalibrate -a big advantage for everyday measuring.
Height adjustment integrated from factory The extendable tripod legs can be used to adjust the measuring instrument to the height of small workpieces. This allows such measuring applications to be implemented without an additional means of holding.
Measurement on small shafts The support prism centers workpieces like small shafts from 10mm diameter reliably on the correct measuring position and protects the probe for measurements in bores from 12 mm diameter.
Precise workpiece support The contact to the workpiece is made by precisely polished sup¬port shafts. This guarantees permanent, stable workpiece support. A height measuring stand can turn the W5 in a complete measuring station for tasks that require precise positioning.
Intuitive operation The graphic user interface combined with the click wheel allows the instrument to be operated reliably. Self explanatory and no time-consuming training required.
Tolerance evaluations at a glance The colored display of the measurement results depending on the tolerance evaluation allows the measurement results to be assessed at a glance.
Measurement position lighting The transparent probe cover combined with the measure¬ment position lighting makes the exact measurement positi¬on of the roughness probe very easy to see. This makes the positioning of the measurement easier when it counts.
One connection - many functions No risk of confusion: all the necessary functions are covered with just one USB port:
Battery charging function or permanent power supply
USB connection to PC to transfer parameters and profile data
External controls via foot switch
Remote controls via TURBO DATAWAVE

TURBO DATAWAVE basic for importing measurement results into an Excel spreadsheet With the optional TURBO DATAWAVE basic software the measurement results from the W5 can be transferred into an Excel spreadsheet on a PC for further processing and documentation.

TURBO DATAWAVE expert - professional evaluation software with a simple menu guide TURBO DATAWAVE expert is optional evaluation software for PC-controlled programming and parameter analysis and provides the ability to control the W5 remotely

Mobile printer
The compact thermal printer documents the measurement results on the spot - using Bluetooth® without awkward cables. The roughness measuring instrument remains mobile, even if the measurements need to be documented.

Easy to insert paper thanks to "Easy Paper Loading" technology: insert roll of paper, close cover, done. The printer is controlled from the roughness measuring instrument. The robust, fiber glass-reinforced plastic casing is desi¬gned for industrial use. Up to five rolls of paper can be printed with one battery charge. The printer therefore stays ready for use for a long time.

Everything at a glance Measuring conditions, parameters, tolerance evaluati¬on, roughness profile and Abbott curve: depending on the measuring program, this information can be printed off individually or in combinations.

HOMMEL-ETAMIC W5 specifics:

Total deviation acc. to DIN 4772 Class 1 Measurement range/resolution 320 microns Probe is an inductive skid probe Measurement display is micron/microinch selectable Max. traverse length is 17.5 mm Traverse speed 0.15 / 0.5 / 1 mm/sec; return: 3 mm/sec Individual traverse lengths 1-5 selectable Filter Phase-correct profile filter (Gauss), in accordance with ISO 11562 Filter in accordance with ISO 13565-1 Data point interval minimum of 0.5 micron (9600 points when lt = 4.8 mm)

Parameters ISO 4287, Parameters ISO 13565, Parameters MOTIF ISO 12085, ASME B46, JIS B601, DIN EN 10049, Daimler DB N 31007: Ra, Rz, Rmax(Rt), Rq, RSm, Rmr(c), Rp Rk, Rpk, Rvk, Mr1, Mr2, A1, A2 R, AR, Rx Rp, Rpm Rz-JIS, Ry (corresponds to Rz), tp (corresponds to Rmr) RPc R3z

Data memory: 5 measuring cycles; offline storage of max. 100 profiles, max 10,000 measurements

Interfaces USB, Bluetooth Power supply 100 V to 264 V