Product News: Test & Measuring Instruments
Surface Mount Piezoelectric Buzzer measures 9 x 9 x 1.9 mm.
Press Release Summary: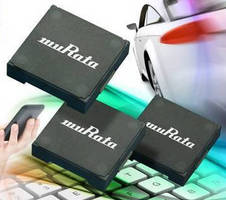 January 13, 2014 - Able to fully withstand reflow soldering without any negative effect regarding its performance, PKMCS0909E4000-R1 produces loudness of 65 dB min at 4 kHz with drive voltage of ±1.5 Vo-p. Louder sound output is possible with higher drive voltage. Product is suited for battery-powered devices requiring audible user feedback, such as digital thermometers, blood sugar meters, and wall- or remote-mounted smart devices.
Murata Electronics North America, Inc.
Original Press Release
World's Smallest Surface Mount Buzzer from Murata
Press release date: January 8, 2014
Solution Surmounts Design Challenges and Cost Concerns While Providing Optimal Performance

Smyrna, GA – Murata Americas today announced the expansion of its Surface mount piezoelectric buzzer family with the launch of the PKMCS0909E4000-R1, the smallest surface mount buzzer available on the market today.  Measuring just 9x9mm, this piezoelectric solution fully withstands reflow soldering without the slightest degradation in performance.  It also delivers an extremely low profile of 1.9mm, while maintaining a loudness of 65dB minimum at 4kHz (with a battery friendly drive voltage of +/-1.5Vo-p). Louder sound output is possible with higher drive voltage.  Couple these features with low power consumption and a lightweight package, this latest PKMCS offering is ideally suited for battery powered devices needing audible user feedback, such as digital thermometers, blood sugar meters, and wall or remote mounted smart devices.

"Murata was the first-to-market with a true surface mount piezoelectric buzzer, and we continue to push technological and materials advancements to yield another industry first," stated Peter Tiller, Device Product Group General Manager, Murata Americas. "For years, offered products have struggled to maintain peak performance after reflow soldering.  Murata's surface mount buzzer product line unquestionably resolves that for design engineers while offering this next step in the miniaturization of piezoelectric buzzers.  We achieve this through our piezoelectric ceramics' unsurpassed stability, performance, and reliability."

Sample pricing of the PKMCS0909E4000-R1 is $0.80 per piece in small quantities with an approximate lead-time of nine weeks. Further information can be found at www.murataamericas.com.

About Murata Americas (www.murataamericas.com)
Murata Americas is the group of Murata companies located in North and South America. The regional HQ of Murata Americas is Murata Electronics North America, Inc., a wholly owned subsidiary of Murata Manufacturing Co., Ltd., whose global headquarters are in Kyoto, Japan. Established in 1944, Murata Manufacturing is a worldwide leader in research, design, manufacture and sale of ceramic based passive electronic components, power supply and wireless module solutions. With annual revenues in excess of $7 billion dollars, Murata is committed to the environmentally conscious development and stable supply of advanced electronic materials, leading edge electronic components, and multi-functional, high-density modules. Products include: monolithic ceramic capacitors, polymer aluminum electrolytic capacitors, electrical double-layer capacitor (EDLC), noise suppression products/EMI suppression filters, inductors, resistor products, resonators, filters, RF components, communication and wireless module solutions, sensors, thermistors, DC-DC converters, AC-DC power supplies, sound components, piezo actuators, micromechatronics products, ceramic applied products, and RFID solutions. Murata's products are found in a wide range of applications including consumer, mobile communications, computers and networking equipment, automotive electronics, advanced metering equipment, digital home electronics, lighting and illumination, and healthcare devices. Murata has employees and manufacturing facilities throughout the world.

Amy Talley
Jefferson Communications
atalley@jeffersoncomm.com
T: 703.323.8939
C: 703.395.5143
F: 703.822.7104
www.jeffersoncomm.com