Product News: Test & Measuring Instruments, Sensors, Monitors & Transducers
Surface Measurement Tool features high-speed column drive.
Press Release Summary: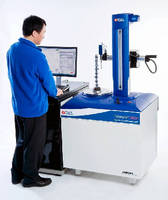 August 6, 2014 - Combining low-noise metrology frame, accurate axis alignment, and patented data collection method, Talyrond 500H provides measurement capabilities that allow it to reproduce shape and contour of precision machined component. Instrument's gauge measures linear or circumferential surface roughness, while frictionless air-bearing spindle and precision column measure roundness, cylindricity, and straightness. Calibration technique performs radius, angle, height, length, and distance measurements.
Original Press Release
Taylor Hobson Launches Talyrond 500H Surface Measurement and Analysis Instrument
Press release date: August 1, 2014
Latest Addition to Talyrond 500 Series Features Industry-Leading High-Speed Column Drive

LEICESTER, ENGLAND — The new Talyrond 500H precision surface measurement tool from Taylor Hobson, a global leader in ultra-precision measurement instruments, offers such features as an industry-leading high-speed column drive, precision positioning and  4mm roundness and contour gauge.

The versatile instrument combines Taylor Hobson's decades of experience in high-accuracy surface measurement with its expertise in ultra-precision machining. The Talyrond 500H relies on a low-noise metrology frame, an accurate axis alignment and a patented data collection method. Together they provide the Talyrond 500H with unmatched straightness and roundness measurement capabilities that allow it to exactly reproduce the shape and contour of a precision machined component.

The instrument's high-resolution gauge measures linear or circumferential surface roughness; its frictionless air-bearing spindle and precision column measure roundness, cylindricity and straightness, while a patented calibration technique performs radius, angle, height, length and distance measurements.

Talyrond 500H is ideally suited for a wide range of high-accuracy measuring applications, including precision bearings, fuel injectors, crankshafts and turbocharger parts.  In addition, Taylor Hobson offers a comprehensive range of standard accessories along with a long list of highly specialized accessories that allow the instrument to accommodate the industry's most demanding applications.

The Talyrond 500H provides high-productivity and error-free performance regardless of operator skill.  It performs calibration, center and level functions along with measuring routines automatically.  These features along with simplified teach and learn programming techniques, comprehensive user prompts and on-screen instructions combine for unparalleled ease of operation.

Inaccuracies in roundness, form, and surface finish often are the result of turning, honing and grinding by the machine tools used to create the component. With its ability to accurately duplicate a machine tool's movements and exactly reproduce a work piece shape, the Talyrond 500H provides its users with rapid feedback to rectify production issues that may cause inaccuracies.

Assembly of round mating parts, for example, can be problematic when one or both of the parts are oval or lobed. These low-frequency harmonic problems are commonly caused by excessive part-clamping pressure or result from unstable machining forces. The Talyrond 500H identifies these problems with a simple roundness measurement and harmonic analysis and quickly provides the necessary information for their correction.

Taylor Hobson is a leading manufacturer of ultra-precision measurement instruments for a variety of markets, including optics, semiconductors, hard disk drives and nanotechnology research.  It is a unit of AMETEK, Inc, a leading global manufacturer of electronic instruments and electromechanical devices, with annual sales of $3.6 billion.

For more information on its full line of ultra-precision measurement instruments, contact Taylor Hobson, 2 New Star Road, Leicester, LE4 9JQ, UK.
Tel: +44 (0) 116 276 3771
Fax:  +44 (0) 116 246 0579 
E-mail: sales@taylorhobson.com 
Web site:  www.taylor-hobson.com