Product News: Test & Measuring Instruments, Sensors, Monitors & Transducers
Submersible Level Transducer suits wastewater applications.
Press Release Summary: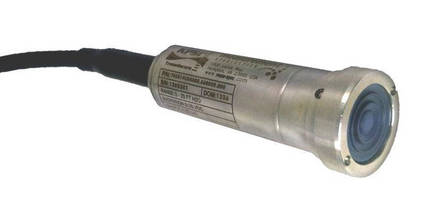 May 28, 2014 - Designed to withstand adverse environments, hydrostatic KPSI™ 705 features sensing area comprised of PTFE-coated elastomeric diaphragm for reliable operation in highly viscous or slurry environments. Diaphragm also promotes thermal stability, output consistency, and repeatability while minimizing susceptibility to output shifts. Pressure sensor assembly is integrated with supporting electronics in waterproof housing constructed of 316 stainless steel or titanium.
Original Press Release
MEAS KPSI(TM) 705 Submersible Level Transducer with Redesigned Diaphragm
Press release date: May 15, 2014
KPSI-705 new diaphragm

The Measurement Specialties, Inc. (NASDAQ: MEAS) KPSI™ 705 is a submersible hydrostatic level transducer specifically designed to meet the adverse environments encountered in wastewater applications. This suitably-sized transducer features a wide sensing area comprised of a PTFE coated elastomeric diaphragm for reliable operation in highly viscous or slurry environments.

The 705 features a new, redesigned elastomeric diaphragm to improve its thermal stability and output consistency.  While developing this diaphragm our test results reveal this new design is more repeatable and less prone to output shifts of the past design. All MEAS transducers utilize a highly accurate pressure sensor assembly. The assembly is integrated with supporting electronics in a durable waterproof housing constructed of 316 stainless steel or titanium.

The attached polyurethane or ETFE electrical cable is custom manufactured to MEAS specifications and includes Kevlar® members to prevent errors due to cable elongation, and a unique water block feature that self-seals in the event of accidental cuts to the cable. Each transducer is shipped with our SuperDry™ Vent Filter that prevents moisture from entering the vent tube for at least one year without maintenance, even in the most humid environment.  Each transducer can be ordered with level ranges customized to your preference up to 115 ft H2O and with optional lifetime lightning protection.

Measurement Specialties, Inc. designs and manufactures sensors and sensor-based systems. The company produces a wide variety of sensors and transducers to measure precise ranges of physical characteristics such as pressure, force, vibration, torque, position, temperature, humidity, fluid properties, mass air flow and photo optics. Measurement Specialties uses multiple advanced technologies – including piezo-resistive, electro-optic, electro-magnetic, variable reluctance, magneto resistive, digital encoders, thermistors, thermocouples, RTDs, capacitive, resonant beam, application specific integrated circuits (ASICs), micro-electromechanical systems (MEMS), piezoelectric polymers and strain gauges to engineer sensors that operate accurately and cost-effectively in customers' applications.

For more information about Measurement Specialties and our products, email sensors.help@meas-spec.com or visit us at www.meas-spec.com.

Bobby Lee
Office (510) 498-1570 x241
bobby.lee@meas-spec.com