Product News: Electrical Equipment & Systems, Electronic Components & Devices
Stud-Mount Standard Recovery Rectifiers come in DO8/DO9 packages.
Press Release Summary: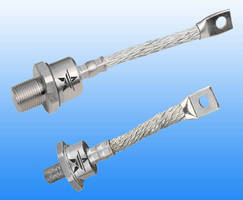 March 14, 2014 - Featuring hermetically sealed construction for reliable and consistent performance in harsh environments, standard recovery stud-mount rectifiers convert raw AC mains' electricity into DC power. Respective current and voltage ratings range from 150–400 A and 50–2,000 V at 125°C case temperature. Delivering uniform and stable electrical performance, products operate from -40 to +200°C and are offered with U.S. and European threads in standard (anode-to-case) and reverse (cathode-to-case) polarity.

Original Press Release
America Semiconductor Releases New Stud-Mount Standard Recovery Rectifiers in DO8 and DO9 Packages
Press release date: March 4, 2014
High-Voltage, High-Current Parts Suit Array of Industrial Applications

Union, NJ ... America Semiconductor, LLC, a leading manufacturer of state-of-the-industry high-power semiconductors, today introduced the new series of standard-recovery, stud-mount rectifiers in DO8 and DO9 packages.   Used to convert raw alternating current (AC) mains' electricity into direct current (DC) power, the robust devices are hermetically sealed to ensure reliable and consistent performance in humid and various harsh environment applications.  Their quality construction and engineering ensures uniform and stable electrical performance while eliminating thermal fatigue.  Products are supplied in current ratings from 150A to 400A, and in voltages from 50V to 2000V at 125 °C case temperature.

America Semiconductor's new rectifiers are ideally suited for employment in a wide range of commercial, industrial and military applications.  They are commonly specified for use in DC motors and motor controls, battery chargers, ultrasonics, RF and inductive systems, inverters, welders, and emergency generators.

The stud-mount rectifiers are offered with US and European threads in standard (anode-to-case) and reverse (cathode-to-case) polarity.  They notably feature low forward voltage drop, low reverse leakage currents, high surge current ratings, and high I2t.   The rectifiers feature superior power cycling performance along with the ability to maintain stable forward voltage characteristics throughout component lifetime. Operating temperature range is -40 to +200 °C.

Customers may contact America Semiconductor at www.americasemi.com for a list of authorized distributors.

About America Semiconductor:
Headquartered in Union, NJ, America Semiconductor is a global leader in the manufacturing of mission-critical, high-power semiconductors, low-power semiconductors and discrete semiconductor components to help OEM companies solve their design challenges.  With over 50 years of accumulated expertise in the semiconductor industry, America Semiconductor's rugged high-reliability high-power standard, fast and super-fast recovery rectifiers, low-power and bridge rectifiers, diacs, IGBT modules, SCRs, Triacs,  Shottky and Zener diodes are employed in an array of industries including alternative energy, oil drilling, power grid, welding, HVAC, and transportation.  The company operates a meticulous quality control program and extensive supply chain.  America Semiconductor's parts are available exclusively through a global network of distributors.