Product News: Material Handling & Storage, Paints & Coatings, Machinery & Machining Tools, Materials & Material Processing, Services
Stripping/Recoating Service renews fuse welding/tipping mandrels.
Press Release Summary: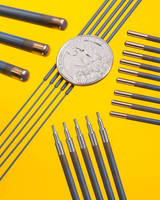 March 20, 2014 - Forming Mandrel Strip and Recoat Service strips Parylene® and PTFE coatings from forming mandrels (0.020 in. dia and up) and applies PTFE Natural™ coating. Featuring smooth, anti-stick surface that withstands up to 300°C continuous, with excursions to 371°C, PTFE Natural-coated forming mandrels provide 0.05 coefficient of friction per ASTM-1894 to simplify catheter removal in fuse welding and tipping operations. Process enhances bonding surface while also prevents flaking and cracking.
Original Press Release
Strip and Recoat Service Renews Fuse Welding and Tipping Mandrels
Press release date: March 18, 2014
A new service for used fuse welding and tipping mandrels that strips worn Parylene® and Teflon® coatings and applies PTFE Natural™ coatings like new is being introduced by Applied Plastics Co., Inc. of Norwood, Massachusetts.

Applied Plastics Forming Mandrel Strip and Recoat Service strips the old Parylene® and Teflon® coatings from forming mandrels and applies a new PTFE Natural™ coating.  Featuring a smooth, anti-stick surface that withstands heat up to 300°C continuous, with excursions to 371°C, PTFE Natural™ coated forming mandrels provide a 0.05 coefficient of friction per ASTM-1894 to simplify catheter removal in fuse welding and tipping operations.

Ideal for larger diameter mandrels 0.020" and up, Applied Plastics Forming Mandrel Strip and Recoat Service lets users recondition rather than discard worn mandrels which saves delivery time and eliminates grinding; especially with complex configurations.  PTFE Natural™ mandrels are coated using a proprietary process which enhances their bonding surface and prevents flaking and cracking.

Applied Plastics Forming Mandrel Strip and Recoat Service is priced according to coating requirements and quantity.  Quotations are provided upon request.

For more information contact:

Applied Plastics Co., Inc.
David Ring
VP Marketing
25 Endicott St. 
P.O. Box 128
Norwood, MA 02062-0128
(781) 762-1881 
FAX (781) 769-3349
e-mail: davering@appliedplastics.com
www.appliedplastics.com