Stormwater Chamber suits septic applications.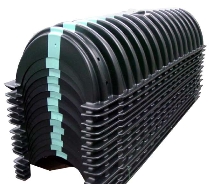 Stormwater Chamber suits septic applications.
June 17, 2005 - Recharger® 150 detention/retention chamber measures 8.5 ft long, 33 in. wide, and has storage capacity of 160 gal. It includes built-in endwall on each chamber and overlapping rib connection for easy installation and strong connection between chambers. Constructed of high-density polyethylene, chamber is resistant to chemicals contained in parking lot runoff.

(Archive News Story - Products mentioned in this Archive News Story may or may not be available from the manufacturer.)
Original Press release

Cultec, Inc.
878 Federal Rd., P.O. Box 280
Brookfield, CT, 06804 1830
USA


Cultec's New Recharger® 150 Stormwater/Septic Chambers Save Materials, Labor
BROOKFIELD, CT/May 24, 2005: CULTEC, Inc.'s new Recharger® 150 stormwater detention/retention chambers are designed to save materials and labor during installation. With a longer length of 8.5 feet, compared to other chambers that come in only two standard sizes, project managers can order less units to complete a project. Less units means decreased labor and cost per foot for the project.

The new Recharger 150 incorporates all of the key benefits of the original product line, including a built-in endwall on each chamber for strength throughout the system. Likewise, the units feature CULTEC's patented, overlapping rib connection, which allows easy installation and a stronger connection between chambers. CULTEC's chambers are constructed of high-density polyethylene for greater chemical resistance to parking lot runoff, compared to the polypropylene commonly used in other models. Finally, all of CULTEC's Recharger chambers are also suitable for septic applications.

The Recharger 150 is 18.5 inches high, 33 inches wide, and has a storage capacity of 2.65 cubic feet per linear foot. Each chamber holds approximately 160 gallons. For more information on the company and its products, call (800) 4-CULTEC, e-mail custservice@cultec.com or visit www.cultec.com.

CULTEC, Inc., headquartered in Brookfield, Connecticut, is a national manufacturer of plastic chambers for stormwater and septic applications, as well as header and stormwater filter systems. The company's Recharger® and Contactor® chambers are compliant with Clean Water Act guidelines, and utilize patented, interlocking ribs and unique support panels to achieve long life and durability.
---