Storage Bins feature 100% recycled plastic.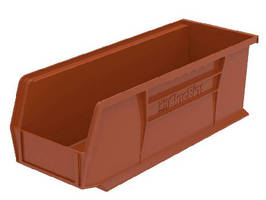 Storage Bins feature 100% recycled plastic.
November 11, 2011 - Measuring 14¾ x 5½ x 5 in. and 10¾ x 8¼ x 7 in., respectively, EarthSaver® AkroBin Models 30234 and 30239 help control inventories, while minimizing assembly times and parts handling. Units are molded of high-impact polypropylene that is unaffected by weak acids and alkalis. One-piece construction resists water, rust, and corrosion. Measuring 11 5/8 x 2 ¾ x 4 in. and 11 5/8 x 8 3/8 x 4 in., respectively, Shelf Bin Models 30110 and 30150 can be fully loaded without spreading or cracking.

(Archive News Story - Products mentioned in this Archive News Story may or may not be available from the manufacturer.)
Original Press release

Akro-Mils, A Myers Industries Co.
1293 S. Main St.
Akron, OH, 44301
USA



4 New Sizes in the 100% Recycled Earthsaver® Series


Akron, Ohio - Akro-Mils, a North American leader in storage, organization and transport products, introduces four new sizes in its popular EarthSaver® Series - featuring AkroBins® and Shelf Bins made from 100 percent recycled plastic. New bins in the series include AkroBin models 30234 (14-3/4" L x 5-1/2" W x 5" H) and 30239 (10-3/4" L x 8-1/4" W x 7" H), and Shelf Bin models 30110 (11-5/8" L x 2-3/4" W x 4" H)
and 30150 (11-5/8" L x 8-3/8" W x 4" H).

The EarthSaver Series offers users an eco-friendly choice in plastic storage and organization products, while boosting productivity in the workplace. Made from 100 percent recycled plastic, the bins help companies and organizations make a positive impact on the environment. Bins are available in three colors - Hunter Green, Sandstone and Terra Cotta.

The industry standard for storage bins, AkroBins help control inventories, shorten assembly times and minimize parts handling. Molded of high-impact polypropylene, AkroBins are unaffected by weak acids and alkilis. Its sturdy, onepiece construction is water, rust and corrosion-proof.

Akro-Mils' Shelf Bins outlast corrugated bins - paying for themselves in reduced replacement costs. Superior construction allows Shelf Bins to be fully loaded without spreading or cracking.

Designed for use in virtually any setting - including assembly, distribution, manufacturing, general maintenance, retail, supply and healthcare - AkroBins and Shelf Bins in the EarthSaver Series can be used alone or with Akro-Mils' steel shelving, wire shelving and pick racks to create a complete storage and organization system supporting 5S Lean and other initiatives.

Akro-Mils, a Myers Industries, Inc. company (NYSE: MYE), is a leading manufacturer of plastic and metal storage, organization, transport and material handling products for use in industrial, healthcare, commercial and consumer markets. For more information or to request a catalog, contact Akro-Mils at (800) 253-2467, fax (330) 761-6348, e-mail sales@akro-mils.com or visit the company's website at www.akro-mils.com .

---