Stencils facilitate high-speed adhesive deposition.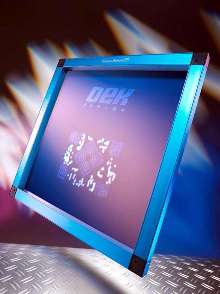 Stencils facilitate high-speed adhesive deposition.
September 29, 2004 - Available in 23 x 23 and 29 x 29 in. sizes with 3 mm thickness, VectorGuard(TM) PumpPrint(TM) Stencils utilize tensioning system of VectorGuard frame, which attaches directly to acrylic PumpPrint stencils by engaging in channel routed around circumference. Stencils allow large numbers of adhesives deposits of almost any shape and size to be made on populated PCBs with sub 8 second cycle times.

(Archive News Story - Products mentioned in this Archive News Story may or may not be available from the manufacturer.)
Original Press release

DEK
1785 Winnetka Circle
Rolling Meadows, IL, 60006
USA



New Stencils Combine Strengths of VectorGuard(TM) and PumpPrint(TM), to Further Enhance High-Speed Adhesive Deposition


New VectorGuard(TM) - PumpPrint(TM) stencils from DEK combine the speed and flexibility advantages of pump printing vs dispensing, with the strengths of the VectorGuard tension system. These include cost saving in storage and transport, easy handling, rapid changeover and environmental benefits.

VectorGuard PumpPrint stencils are available in two standard sizes, 23" x 23", and 29" x 29", and initially in 3mm thickness. The new mounting system eliminates the mesh and aluminium frame of standard PumpPrint stencils. The tensioning system of the VectorGuard frame attaches directly to the acrylic PumpPrint stencils, by engaging in the channel specially routed around the circumference of the stencil. The standard VectorGuard frame can be used, with no modification even to the frame tension. This makes the new stencils easy to setup on any printing machine required to print adhesive in preference to dispensing. It also protects customers' existing investments in VectorGuard technology, by allowing standard VectorGuard frames to be used directly for PumpPrinting as well as for stencil printing. The compact and convenient VectorGuard stencil storage systems such as the DEK printer caddy or the DEK cabinet are also compatible with VectorGuard PumpPrint stencils. This allows a large number of stencils to be stored tidily and unobtrusively, close to the factory floor, ready for rapid retrieval and use for all kind of mass imaging applications.

PumpPrinting delivers a convenient, flexible, high throughput solution to depositing predominantly adhesives for SMT applications including double-sided SMT assembly. The technique is performed using a standard screen printing machine such as a DEK Viking-Class platform, using a stencil. This approach is inherently much faster than a conventional adhesive dispenser. The acrylic PumpPrinting stencils, which are thicker than laser-cut stainless steel stencils for solder paste printing, allow large numbers of adhesives deposits of almost any shape and size to be made on populated (print side) PCB's at high speed, with sub 8 second cycle times per PCB quite possible Viewing each stencil aperture as the equivalent of one dispensing machine nozzle enables a valid speed comparison between PumpPrinting and dispensing. PumpPrinting also obviates the high capital investment in dedicated dispensing equipment, and the screen printer may be reassigned to solder paste printing as required. The programming time for a dispenser is also eliminated. While Pump Printing is now the industrial standard method for adhesive application, Pump Printing is not restricted to the printing of adhesives. Applications such as Silver Epoxy Die Attach on pre-populated substrates, Extrusive reflow (printing solder paste onto through hole leads e.g. connectors) and high solder paste volume applications such as shield attachments are becoming increasingly common applications.

DEK has set up production facilities for VectorGuard PumpPrint stencils in Europe and North America, to maximise availability and ensure rapid delivery. Further manufacturing capacity, including through technology license agreements, may be added in the future.

About DEK
DEK is a global provider of advanced pre-placement manufacturing solutions and innovative deposition technologies for a wide range of electronic materials. For more information, visit DEK at www.dek.com.

Company Contact
Craig Brown
DEK International GmbH
8 Bartles Corner Road
Flemington
New Jersey 08822
USA
Tel: +1 908 782 4140
Fax: +1 908 782 4774
E-mail: cbrown@dek.com
Internet: www.dek.com

---
See related product stories


Start Your

Free


Subscription to


Industry Market Trends

.