Product News: Paints & Coatings, Services
Stencil Coating minimizes spread of solder paste.
Press Release Summary: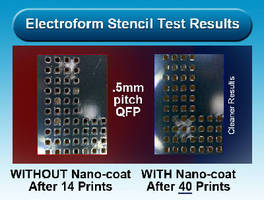 February 27, 2013 - Available on all types of stencils, including laser cut, electroformed, NicAlloy, and chemetch, Smart-Release™ Nano Layer Stencil Coating minimizes frequency required for under-screen cleaning on printer. Solder paste separates from stencil with minimal contamination on underside, leaving apertures and component edges cleaner for exact printing results. Over 40 prints can be reached before cleaning, with no deterioration in print quality or bridging.
Original Press Release
Photo Stencil Introduces Smart-Release Nano Layer Stencil Coating
Press release date: February 18, 2013
~ Tests at OnCore Manufacturing show reduced need for stencil cleaning with Smart-Release ~

Colorado Springs, CO -  Photo Stencil, LLC, a leading full-service provider of high-performance stencils and tooling, introduces its new Smart-Release™ nano layer stencil coating at IPC APEX Booth #1215. Tests performed at OnCore Manufacturing Services, LLC, Longmont, Colorado, showed that Smart-Release considerably reduced the frequency required for under-screen cleaning on the printer, saving time, money and consumables, reducing defects and contamination, and improving throughput. The test results demonstrated that over 40 prints before cleaning can be reached, with no deterioration in print quality or bridging.

"We compared the results of PCBs with and without Photo Stencil's Smart-Release nano coating and we found measureable advantages," said John Ross, manufacturing engineering manager, OnCore Manufacturing Services. "Smart-Release reduces the spread of solder paste under the stencil even when the stencil is not making good contact to the PCB pad. The resulting process is faster and more efficient, while achieving excellent printing results."

"The direct cost of cleaning a stencil is about $0.15 for each cleaning, so each additional print that can be made before the stencil needs to be cleaned saves $0.15," explained Rachel Short, VP sales and marketing, Photo Stencil. "As demonstrated in our collaborative tests with OnCore, using Smart-Release coated stencils can result in 40 additional prints before cleaning is necessary. And that cost savings doesn't include the time and labor involved in cleaning or the loss of throughput."

During screen printing, solder paste adheres to the underside of the stencil, gradually causing a build-up of paste which can potentially contaminate the board and prevent the stencil gasket from sealing tightly. With Photo Stencil's new Smart-Release nano layer stencil coating, the solder paste separates more easily from the stencil, with less contamination on the underside. Apertures and component edges are cleaner for more exact printing results. Smart-Release is available on all types of stencils, including laser cut, electroformed, NicAlloy, and chemetch.

About OnCore Manufacturing Services
OnCore Manufacturing Services, LLC provides product commercialization services for low-medium volume, high-complexity products to international blue-chip aerospace and defense, industrial, and medical companies. OnCore manages customers' high-complexity products while providing them maximum flexibility to manage their business in a close, collaborative relationship.

About Photo Stencil
Photo Stencil, LLC provides high-performance stencils, squeegee blades, thick film and metal mask screens and tooling for the surface mount technology (SMT) assembly, solar, and semiconductor industries. Its innovations include the patented AMTX E-FAB® electroform stencils, high-performance, proprietary NicAlloy™, NicAlloy-XT™, laser-cut, and chemetch stencils, and patented electroformed E-Blade® squeegee blade. Stencil design support and customer-specific design libraries are also provided. Founded in 1979, Photo Stencil is headquartered in Colorado Springs and has manufacturing facilities in Mexico and Malaysia. For more information follow us on www.linkedin.com/company/photo-stencil-llc, visit www.photostencil.com, or email info@photostencil.com. 

Photo Stencil, LLC
Rachel Miller-Short
+1 719-304-4224
rshort@photostencil.com