Statistical Process Analyzer Software handles AOI data.
Press Release Summary: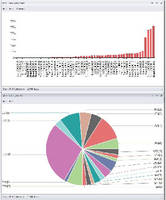 July 10, 2014 - Acting on data generated by YESTECH AOI installation, VuData produces information on which management decisions can be made. Program stores data with all faults related to assembly numbers, board serial numbers, system operator, and time. Performance data in terms of line speeds, timing, and throughput is also collected. Comprehensive reports can be generated, showing yield rates in both board and opportunity format, as well as current and historical failure rates with types and trends.
Original Press Release
Cupio Yestech Europe's New VuData Software Unlocks the True Benefits of YESTECH AOI System Data
Press release date: July 7, 2014
Winchester -- AOI's obvious benefit is its ability to spot defects in boards or subassemblies coming down a production line, so any defective units are captured and removed for rework before being shipped to a customer or integrated into a larger system.

Yet AOI systems also have huge potential beyond the obvious – they collect large volumes of data that can be used to steadily improve process yield over a longer period of time. However, for this data to become effective, it must be analysed and presented to users as information which is relevant, easy to understand and easy to use in improving their line or process.

VuData, Cupio Yestech Europe's recently announced statistical process analyser software package, provides this easy link; acting on data generated by a YESTECH AOI installation to produce information on which management decisions can be made, both for short term corrective actions and longer-term yield improvement strategies.

VuData stores data with all faults related to assembly numbers, board serial numbers, system operator and time. Performance data in terms of line speeds, timing and throughput is also collected. Comprehensive reports can be generated, showing yield rates in both board and opportunity format, as well as current and historical failure rates with types and trends. Management reports are also available for inspection and review timing, false and genuine fault rates and other line metrics.

Live charting directly shows yields and part failure rates, with common failures and rankings. Additionally, these charts generate performance alarms, which can be emailed directly to any staff that should be alerted. Information may be exported to Excel, pdf, jpg or other formats for external use. Fail pictures are presented in a fault picture viewer, and any data can be used to generate live charts, graphs and reports as circumstances demand. This allows feedback from the production line or rework area to be fully analysed, and actionable results generated in real time.

AOI performance can be tracked through reports related to time, user, board, fault, false call, assembly, job and serial numbers. Data can be searched, sorted, filtered and grouped without need for external software. Longer term trends can be spotted, and corrective action taken, through VuData's analysis and presentation of statistical information including part, lead and solder fail statistics, and fault classification statistics. VuData also provides yield and throughput monitoring as well as other management statistics. 

"VuData is a software package that provides its users with both immediate and longer-term benefits" commented Andy Bonner, CEO of Cupio Yestech Europe, "Alarms can be immediately raised if fault levels become excessive, and quick feedback is provided for first pass yields. Current and historical production status can always be viewed by graphics and text reports which are easy for users to format and understand. Trends and statistical data are equally as easy to access, format and present, giving management the information they need to make longer term process and yield improvements."

About Us
Cupio Yestech Europe supplies innovative inspection, measurement and test solutions to electronics manufacturers throughout Europe, Russia and Africa. Our specialist equipment suppliers are acknowledged leaders in their field. Our onsite integration, training and support services ensure that their systems rapidly become productive within our customers' manufacturing facilities.

Our Automated Optical Inspection (AOI) equipment, from Nordson YESTECH, offers PCB inspection with exceptional defect coverage. These systems inspect solder joints and verify correct part assembly, enabling users to improve quality and increase throughput. Programming is fast and intuitive, while latest available image processing technology ensures extremely low false failure rates. Our YESTECH AOI offering is enhanced by our own new VuData Statistical Process Analyser software package, allowing users to maximise the benefits of their AOI investment. VuData greatly improves visibility of real-time AOI inspection trends and alarm conditions, as well as providing the essential tools for longer term yield improvement.

ABI Electronics is a leading manufacturer of test, measurement and fault diagnosis equipment used in manufacturing, test, R&D, repair and education applications, as well as counterfeit component detection. ABI offers uniquely versatile, self-contained and easy-to-use test systems. These feature the most comprehensive set of test instruments for fault-finding on almost any type of PCB.

We have recently added two new suppliers and several more products to our portfolio. They are all selected to complement our existing lineup and form logical extensions to our integrated PCB production line capability. HB Automation's products comprise reflow and wave soldering ovens, screen printers and PCB handling equipment. Prospect42, our second new supplier, has just launched their flagship product; their innovative rapid component counting system, TalliScan.

We have application specific test solutions comprising Microtronix' telecoms audio and functional testing for telephones and handsets, and Intepro Systems' power supply test and power burn-in units.

Our inspection, measurement and test solutions are always designed with one single objective: to give electronics manufacturers fast access to significantly improved productivity, quality and profitability.

Visit Cupio Yestech Europe for more information on our products and services

Sales and technical enquiries: 
Andy Bonner
Managing Director
Cupio Yestech Europe
62 Basepoint, 1 Winnall Valley Road
Winchester
Hants SO23 0LD
Tel:      +44(0)1962 832654
Fax:     +44(0)1962 832501
Email:   abonner@cupio.co.uk
Web:     www.cupio.co.uk