Product News: Computer Hardware & Peripherals
Stainless Steel Fanless Panel PCs feature food-safe seals.
Press Release Summary: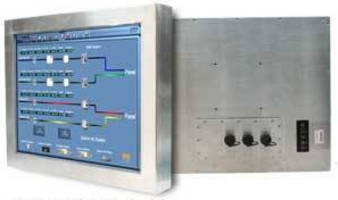 June 30, 2010 - Based on 1.6 GHz Intel® Atom N270 processor, Stainless Steel LCD Computers are housed in waterproof and dustproof anti-corrosive enclosure with IP65/NEMA 4X weatherproof connectors and cables. Units can be cleaned with chemicals and operate in complete wash-down applications. Offered in 15-19 in. sizes, PCs are available with HMI touchscreen capability, sunlight readable monitors and displays, LED backlight panels, and custom I/Os. Units support Windows or Linux operating systems.
Original Press Release
AIS Releases a Fanless Panel PC Designed with NEMA4X Stainless Steel and Food-Safe Seals for Food, Beverage, Clinical, Chemical and Pharmaceutical Industries
Press release date: June 16, 2010
IRVINE, CA -- American Industrial Systems Inc. (AIS), has introduced a line of Full IP65/NEMA 4 Rated Stainless Steel LCD Computers for superior performance in wet, dusty, rugged, and humid environments. The Panel PC utilizes the latest Intel® Atom Fanless processor featuring low power consumption, high reliability, long product life cycle and superior performance per watt operation. Additional options are available such as HMI Touchscreens Capability, Sunlight Readability capability through Transflective enhancements, LED backlit Panels, and custom I/O's; enhancing the versatility and utility of the display. AIS allows customization of the Food-Safe Panel PC's to cater each unit to the specific application requirements.
These industrial monitors are encased in a waterproof and dustproof anti-corrosive stainless steel enclosure to ensure complete all-weather protection including the rear I/O connectors. The stainless steel chassis can be cleaned with chemicals and is designed for situations where sanitation is of highest priority. The stainless steel pc is capable of full operation in complete wash-down applications. AIS utilizes specially designed IP65 / NEMA 4X weatherproof connectors and cables; the fool-proof design incorporates ABS thermoplastic covers and o-rings to completely seal the monitor from harmful particulate dust and water. Currently the Rugged Touchscreen Panel PCs are available in sizes 15" to 19". VESA standard mounting holes are available on every unit for easy deployment into any installation. Whether your application requires a commercial off the shelf (COTS) unit, or a fully customized food-safe Panel PC, AIS has the flexibility to meet your requirement.
Pricing Starting at $1999 MSRP
Features and Benefits:
o IP65 (NEMA 4X) Weatherproof Stainless Steel Enclosure with Corrosion Protection, Including I/O Connectors
o Intel® Atom N270 1.6GHz Processor
o Scalable Display Sizes
o Rugged Stainless Steel and Food-safe seals
o Support Windows or Linux OS'
o HMI (Human Machine Interface) Touchscreen Ready Platform
o High Resolution, High Brightness and Contrast
o Wide Range Temperature Displays
o Sunlight-Readable Monitors and Displays
o Robust and Fanless Design for Reliable Operation
o Extreme Protection Against Vibration, Shock, Dust, Acid or Alkaline
o Long Life Time Support
About American Industrial Systems, Inc.
AIS is a leading global designer and manufacturer of specialty industrial panel pc, industrial display, digital signage, and rugged tablet pc solutions for customers in the industrial automation, military & aerospace, medical, transportation and power & energy markets. AIS specializes in designing and manufacturing cost-effective LCD and embedded computing products for the industrial market, as well as ODM/OEM applications worldwide. For additional information on AIS products and services, please call AIS toll-free at (888) 485-6688 or visit: www.aispro.com