Stainless Operator Panel targets food and beverage industry.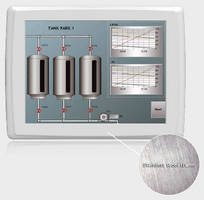 Stainless Operator Panel targets food and beverage industry.
May 12, 2010 - Combining HMI technology with acid-resistant stainless steel construction, EXTER T150-st is suitable for food and beverage, oil and gas, and pharmaceutical industries. Front is waterproof, which enables cleaning with high-power water jets. Unit has neither foil nor labels on front so cracks and lines where bacteria and other pathogens might hide are minimized. With alarms, recipes, remote access, and multiple languages, panel helps ensure full control of machines and processes.

(Archive News Story - Products mentioned in this Archive News Story may or may not be available from the manufacturer.)
Original Press release

Beijer Electronics, Inc.
939 N. Plum Grove Road, Suite F
Schaumburg, IL, 60173
USA



Beijer Electronics Announces Release of Stainless Operator Panel for Food & Beverage and Pharmaceutical industries


Beijer Electronics adds a new model to its EXTER series of operator panels. The EXTER T150-st delivers intuitive HMI solutions, combining compact efficient functionality with award winning design. The thing that sets the EXTER T150-st apart from the rest is its sleek, stainless steel construction.

Durability in tough conditions

"The stringent regulations that apply throughout the Food & Beverage and Pharmaceuticals industries often require the use of powerful cleaning agents to satisfy the high standards of hygiene" explains Marcus Jillgart, Global Product Manager for Premium Segment HMI at Beijer Electronics. "Some acid-based cleaning agents can pose problems for other operator panels, with long term use leading to corrosion," he clarifies "the EXTER T150-st has an acid-resistant stainless steel construction, so it's perfectly suited to these kinds of tough conditions."

In addition, "this stainless steel operator panel has a recognizably streamlined appearance, with the surface and shape offering a number of advantages over other operator panels" continues Marcus. "The streamlined construction, and the fact that the panel has neither foil nor labels on the front, means that there are less minute cracks and lines in the surfaces where bacteria and other pathogens might otherwise hide, so it's much easier to keep clean" he adds. What's more, the front of the EXTER T150-st is waterproof, making it easy to clean with high-power water jets without the risk of water leaking into the operator panel itself.

Robust and aesthetic design

The exclusive design offered by the operator panel's brushed-steel finish makes it an elegant complement to any control area, affording a rugged and robust aesthetic feel to operations. The EXTER T150-st is perfect for utilization throughout the Food & Beverage, Pharmaceuticals and Oil & Gas industries, being robust, easy-to-clean, aesthetically pleasing and compliant with the rigorous hygiene demands and safety standards demanded.

Easy-to-implement

It affords full interoperability with all major automation brands (more than 100 drivers are available) to satisfy all System Integrators specific needs. Less than 10 minutes is all you need to get the first application running and a wide selection of ready-made objects and functions enables to create applications by just pointing and placing on the screen - it is possible see exactly how the final result will appear. Projects are created in a visual environment which gives a complete overview in the project manager so it is possible to see what is happening in the process.

About EXTER

EXTER is a series of advanced operator panels that combines cutting edge HMI technology with award-winning design. By providing built-in functionality to handle e.g. alarms, recipes, remote access and multiple languages, EXTER makes it easy for its customers to ensure full control of their machines and processes. The EXTER series includes keypad and touch screen panels with displays ranging from 3.5 to 15.0 inches.

About Beijer Electronics

Beijer Electronics HMI Products is a full-range, global supplier with 25 years of automation experience. Our HMI solutions connect people and processes, thus enabling actions, data collection and storage, and the management of information - on site or remotely. Please visit www.beijerelectronics.com for further details on our company and products.



---