Product News: Fluid & Gas Flow Equipment
Split-Collet Connectors mate with external threads.
Press Release Summary: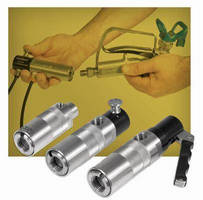 March 28, 2013 - Providing instant, repeatable connections to SAE and NPT external threads, FasMate FX Series is available with lever, thumb valve, and pneumatic actuation methods. Units lock securely in place without operator adjustment or use of thread sealant and wrenches. Pressure assisted grip and seal technology prevents accidental disconnects during dynamic, high-pressure applications to 5,000 psi. Applications include manifolds, transmissions, valves, gauges, pressure vessels, and plumbing.
Original Press Release
New FasTest Connectors for External Threads Improve Cost, Process and Quality
Press release date: March 19, 2013
Minneapolis, MN—FasTest Inc. introduces its FasMate FX Series of connectors for instant, repeatable connections to SAE and NPT external thread profiles. The FasMate FX Series standardizes operational processes and is available with lever, thumb valve and pneumatic actuation methods. These versatile connectors operate reliably in pressure and vacuum testing, media filling or flushing and performance testing applications. 

Featuring a split collet design, the FX Series connectors lock securely in place without operator adjustment or the use of thread sealant and wrenches. Pressure assisted grip and seal technology prevents accidental disconnects during dynamic, high-pressure applications rated to 5000 psi. The modular actuation design allows quick change outs between lever and thumb valve styles. Plus, a rugged construction ensures connectors withstand harsh environmental conditions.

The FX Series increases production throughput, reduces costs and improves process quality. Ready-to-use manual and automated tools accommodate high-volume testing production applications, and the connectors' simplified design enables easy field-service and minimizes costly maintenance or downtime. Additionally, the elimination of wrenching and taping diminishes wear on the test piece and prevents media contamination.

FasTest's FN Series for internal threads and the new FX Series connectors deliver cost, process and quality improvements to a diverse range of industries and applications, including:
• Manifolds, Engine Blocks, Transmissions, Brake and Steering Systems Testing
• Transmitters, Valves, Gauges and Instrument Calibration
• Pressure Vessels, Pipes, Plumbing, Irrigation and Spray Systems Filling or Testing

To learn more about FasMate FX connectors and how they operate, watch the video at the following link: http://www.youtube.com/watch?v=NV_SwRZtSME

For additional information, including contact information for lead reports, contact Grant Bistram. Email: Grant.Bistram@fastestinc.com

FasTest is the market leader of cost, process and quality improvement connection tools for sealing, pressure, flow and vacuum testing applications.  FasTest's complete line of specialty connectors are designed to provide leak-tight, reliable connections for calibration, medical devices and other industrial manufacturing applications.  Custom connectors are available for unique requirements.

For additional FasTest products or information, contact:
1-800-444-2373
www.fastestinc.com
fastsales@fastestinc.com