Sorter separates out improperly hardened parts.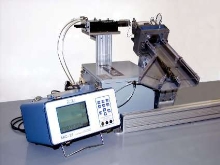 Sorter separates out improperly hardened parts.
May 16, 2005 - Combining eddy current technology with custom fixturing, Sorter provides 100% on-line inspection and sorting of small metal parts. Zetec MIZ23 eddy current tester compares electromagnetic properties of sample with results obtained from testing known good parts. Input/output of Zetec MIZ23 operates flippers on sorter according to test results, which divert defective parts to reject bin. Accuracy is unaffected by orientation of parts entering sorting station.

(Archive News Story - Products mentioned in this Archive News Story may or may not be available from the manufacturer.)
Original Press release

Uson L.P.
8640 N. Eldridge Pkwy.
Houston, TX, 77041
USA



Uson Sorter Uses Eddy Current Technology to Quickly Separate Improperly Hardened Parts


Houston (April 27, 2005) - Uson, the world leader in the precision leak and flow tester market, has combined eddy current technology with custom fixturing to build a sorter that makes 100 percent on-line inspection and sorting possible for small metal parts, helping automotive and industrial manufacturers save time and money by quickly conducting repeatable non-destructive, non-subjective tests. (www.uson.com)

Many critical parts are hardened for toughness and longevity. During the manufacturing process, some parts are produced that are too soft or are improperly hardened. This can lead to a failure in the field or a complete product recall.

Additionally, improper positioning of induction heating coils, insufficient heating - perhaps due to heater inefficiency - or incorrect material structure may cause defective parts. These parts are usually identical in appearance to good parts until they are cut and polished.

Eddy current technology provides the easiest and most cost-effective way to identify defective parts, short of time consuming and subjective examination of parts under a microscope. Uson's Zetec MIZ23 eddy current tester, combined with the sorter, offers OEMs an ideal solution to quickly and efficiently test golf-ball size metal parts.

The Uson Zetec MIZ23 is a simple to use eddy current tester, which identifies improperly hardened parts by comparing the electromagnetic properties of the sample with the results obtained from testing known good parts. Good parts are used to build up a profile of the desired response and create the pass/reject parameter. In operation, parts are singulated and then allowed to slide through the test coil. The Uson Zetec MIZ23 compares the test signal with the profile of the good parts and its input/output operates flippers on the sorter according to the test result. Rejected parts are diverted to a reject bin. It is not important which way the parts are oriented when they enter the sorting station.

Contact Uson's eddy current applications team at 425-395-3424 or complete the component testing application survey at uson.com/content/applications/eddy/index.php Uson is responsible for the sales and support of Zetec eddy current testers in the component testing market. The company has facilities in Houston, Salt Lake City, Detroit and Issaquah, Washington as well as a comprehensive network of local representatives. Download free product brochures today at www.uson.com

About Uson
Uson has been at the forefront of leak detection, leak testing and non-destructive testing for over 40 years, pioneering the development of automated leak detection equipment for the automotive, industrial, medical device and packaging industries. Whether you need leak testers, hardness or flaw detectors using eddy current technology or custom-built test systems, Uson offers the products and expertise you need. (www.uson.com). Uson is a wholly-owned subsidiary of Roper Industries, a diversified industrial growth company providing engineered products and solutions for global niche markets. (roperind.com)

---


Start Your

Free


Subscription to


Industry Market Trends

.