Product News: Vision Systems
Solar-Powered Camera suits construction and site security.
Press Release Summary: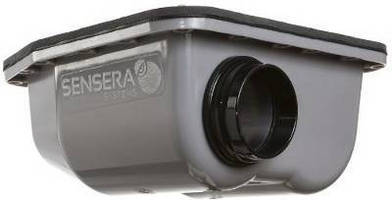 July 11, 2014 - Featuring 100% wireless, web-based design, MC-30 Camera offers functions for time-lapse, on-demand images, alerting, data logging, and surveillance. Unit is available with MultiSense™ Cloud Service which provides network access via cellular or WiFi, and WebApp web-based user interface that operates from any PC, smartphone, or tablet. Software supports image annotation, alert management via text or email, weather display, image comparison, and camera configuration and control.
Original Press Release
Sensera Systems Unveils MultiSense(TM) MC-30 Construction Camera for Time-Lapse and Surveillance
Press release date: July 8, 2014
Low-cost, Solar Powered, Wireless, Multi-function Camera with Cloud Service Makes Site Cameras Affordable to Any Project

GOLDEN, Colo. -- Sensera Systems® announced the immediate availability of the MC-30 Camera for Construction and Site Security. The MC-30 is a complete solar powered, 100% wireless, web-based camera system that can be deployed in under 20 minutes. It offers a rich set of functions for time-lapse, on-demand images, alerting, data logging, and surveillance. The camera is available with the MultiSense(tm) Cloud Service and web-based software providing a turn-key hardware and software system for remote site monitoring.

"Leading construction project managers understand that job site cameras are a valuable tool for marketing, documenting the project, and managing stakeholders, vendors, quality and safety. But until now site cameras have been expensive and difficult to use," said David Gaw, President of Sensera Systems. "The MC-30 changes all that by addressing the key limitations of existing solutions resulting in a product that is multi-function, feature rich, extremely easy to use, and low-cost, allowing site cameras to be deployed on projects of any size."

The MC-30 is the first multi-megapixel site camera designed from the ground up for solar power, wireless operation, and portability and is offered as a complete solution with integrated solar system, mounting brackets and web-based software.

The MultiSense(tm) Cloud Service, also announced today, provides 100% web based network access via cellular or WiFi and a 100% web-based user interface (WebApp) that operates from any PC, smartphone or tablet with no additional software. The WebApp is intuitive simple to use software that securely archives collected data and allows users to view images, and create time-lapse movies. The software supports image annotation, alert management via text or email, weather display, image comparison, and camera configuration and control. Camera locations are automatically displayed on a map using the MC-30 GPS sensor.

The MC-30 is based on the MultiSense(tm) platform which provides time-lapse, still and video imaging, video streaming, and site security features in a single highly integrated system.

The MC-30 is priced at $1995 (Quantity 4) plus MultiSense(tm) Cloud Service starting at $69/month. The MC-30 is available for immediate shipment and can be ordered online directly from www.senserasystems.com.

Press Contact:
David Gaw
President
1-800-657-0437
david@senserasystems.com