Software provides job scheduling and management.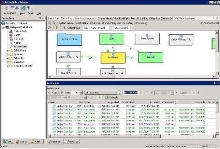 Software provides job scheduling and management.
August 19, 2005 - To assist with real-time interrogation of enterprise data, ActiveBatch v5 supports job execution on Windows 2003/XP/2000/NT, Linux, IBM AIX, Sun Solaris, HP-UX, HP Tru64 Unix, and OpenVMS platforms. Job Plan feature implements simple or compound job streams and relationships with host of global objects, while Job/Plan Variable Support enables information to be retrieved by job and/or passed between jobs. Software also offers 4 standard client interfaces and optional web server.

(Archive News Story - Products mentioned in this Archive News Story may or may not be available from the manufacturer.)
Original Press release

Advanced Systems Concepts Inc.
33-41 Newark Street
Hoboken, NJ, 07030
USA


Innovative New ActiveBatch® Version 5 Addresses Emerging Real-Time Batch Processing Needs
Enterprise-Class Product from Advanced Systems Concepts Designed for Fast-Moving Environments; Solution Leverages Window s/UNIX Technologies to Improve Integration

PARSIPPANY, NJ - (August 12,2005) - Advanced Systems Concepts, Inc. (ASCI), a leading provider of system software solutions that enhance Windows™, LINX, Linux and OpenVMS systems, today announced it has begun shipping ActiveBatch® Version 5, the most advanced release yet of the company's leading job scheduling and management system. Designed to meet the fast-growing need for immediate, or near-immediate, information processing, in addition to its already powerful Date/Time scheduling, ActiveBatch Version 5 assists in interrogating enterprise data in real time, allowing businesses to experience benefits ranging from improved cash flows and better allocation and/or protection of assets to faster real-time business intelligence.

In addition to its business-enabling advantages, ActiveBatch Version 5 also improves integration, training, and manageability curves for IT staffs by taking full advantage of the Microsoft Windows systems environment already implemented into today's business applications. ActiveBatch Version 5 provides broad support for Kerberos and other Windows Security components; Active Directory; Windows Management instrumentation; Microsoft clusters; OLE/DB compliant databases and much more, thus reducing costs by simplifying deployment and use in Microsoft Windows shops.

"As the business world continues to evolve, batch data processing is quickly shifting from an overnight task to a real-time, or near real-time, process," said Jim Manias, Vice President of Marketing and Sales at Advanced Systems Concepts, Inc. "ActiveBatch Version 5 is designed to keep pace with this new imperative. It incorporates a number of features and improvements that together address the changing ways in which information is processed and used in the modern enterprise."

Speed, Tight Integration

ActiveBatch Version 5 offers a number of new tools and capabilities that help businesses respond to the pace and complexity of modern business processes. Specific improvements include:

o A new Job Plan feature uniquely implements simple or compound job streams and relationships with host of ActiveBatch "global" objects to reduce unnecessary operator and/or user interactions with the system;

o Job/Plan Variable Support enables information to be retrieved by a job and/or passed between jobs. Information can be accessed from various data sources like SQL queries, WMI's WeL queries, XML files, registries, etc;

o Multiple Job Types-Process, E-mail, FTP, and others-can be easily executed in Version 5, as compared to other job schedulers that only handle one;

o New Resource, Time, and Variable Constraints provide powerful new additions and enhance existing Job and File constraints (formerly referred to as dependencies);

o Plan/Job Triggers, including fiscal scheduling triggers, Date Arithmetic as well as new series- and/or range-based exit triggers;

o Customizable Alert, Job Operations, and Smart Update enhancements.

In addition to these new tools, ActiveBatch Version 5 is tightly integrated with the Windows operating environment, enabling users to leverage their Microsoft investment while simplifying learning and implementation. For example, ActiveBatch Version 5 makes use of the Windows security model including Kerberos for Windows 2003 Servers; this improvement not only reduces training by using an existing security paradigm, but also eliminates the need to manage and secure user passwords.

ActiveBatch Version 5 supports job execution on the most popular platforms including Windows 2003/XP/2000/NT, Linux (Red Hat & SuSE), IBM AIX, Sun Solaris, HP-UX, HP Tru64 Unix, and OpenVMS. The solution also supports interoperability with Microsoft SQL Server 2000 databases as well as other OLE/DB compliant alternatives including Oracle, WMI, Active Directory (including ADAM) and Microsoft Clusters.

In addition to providing four standard client interfaces (GUI, CLI, MMC, and COM), ActiveBatch offers optional Web Server (Internet Explorer/Netscape) and Wireless (BlackBerryTM handheld) capability to control job scheduling tasks as needed from nearly any access point.

Automatic Upgrade

ActiveBatch Version 5 is immediately available for purchase from Advanced Systems Concepts; the release is also available as an automatic update to companies participating in ASCI's ActiveBatch Annual Version Upgrade program. For more information, or to obtain a purchase quote on ActiveBatch Version 5, log on to www.advsyscon.com.

About Advanced Systems Concepts, Inc.:

Headquartered in Parsippany, New Jersey, Advanced Systems Concepts, Inc. offers many software products and options for users of Microsoft Windows, UNIX, Linux, and HP OpenVMS systems. These products provide answers to software developers and system managers with improved system efficiency and utilization. Advanced Systems Concepts today has over 200,000 licenses installed and a worldwide base of customers in 27 countries around the world.

Advanced Systems Concepts is a Microsoft Independent Solution Vendor, a HP/Compaq Business Partner, a Sun Catalyst member, an IBM Business Partner and an HP-UX Power Partner. For more information, see the company's website at http://www.advsyscon.com or call (800) 229-2724.

ActiveBatch is a registered trademark ofAdvanced Systems Concepts, Inc. Other company and/or product names are trademarks and/or registered trademarks of their respective firms.
---