Software grants remote access to PC-based USB devices.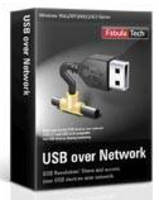 Software grants remote access to PC-based USB devices.
November 19, 2008 - USB over Network v3.6 lets users work with remote USB device over local network or Internet as if it were connected directly to local PC. Developed for Linux and Windows Vista/XP/2000/2003 Server/Server 2008, program eliminates USB device/PC compatibility issues. Unlimited USB devices can be shared on server and accessed from client. Additional support is provided for auto-sharing of new USB devices and exclude list as well as auto-connecting of USB devices shared on server.

(Archive News Story - Products mentioned in this Archive News Story may or may not be available from the manufacturer.)
Original Press release

FabulaTech, Inc.
Suite 606, 1220 N. Market St.
Wilmington, DE, 19801
USA



FabulaTech Satisfies Multiple Requests and Launches USB over Network 3.6


Multiple customer requests are now satisfied with USB over Network 3.6 Developer API improved. Command-line tool for server side is now available. "Heck awesome", say the customers.

Liverpool - UK - FabulaTech announced today they have launched a new enhanced version of USB over Network - a USB sharing program which allows to work with the remote USB devices over a local network or Internet as if they were connected directly to your local PC. Shared USB is fully accessible. The inspiration for USB over Network came from multiple users which complained when they needed to use any USB device (like scanner, flash-memory, etc) they plug it into USB port of a computer. But for all that, the device is accessible only for the computer it is plugged into. And they needed someone else to use the same USB device, told Andrew Scott, FabulaTech general manager. "Common solutions in this case were not acceptable. You can unplug USB device from your PC and give it to another user but according to different circumstances, not always there is a possibility to give USB device to another user, even for a while. Or you can allow another user to work with that device on you r PC but not always there is a possibility to allow someone else to work with that USB device on your PC (especially if another user is in the another office, city or country). It is also possible to purchase the same USB devices additionally. But additional USB devices could be purchased but it depends on the cost of the device and quantity required. So people asked - can you solve this issue?".

FabulaTech has resolved this problem in a different extraordinary way. We've created USB over Network which allows to work with remote USB devices over a local network or Internet. Moreover, simplicity in use made it a perfect solution for everyone. All one has to do is to install USB over Network Server on the PC where USB devices are plugged in. USB over Network Client must be installed on the PCs one wants to give access to those very USB devices already plugged in. That's all.

One of the multiple feedbacks FabulaTech received: "Clean, clear and beaufitul interface, very simple installation, 'just works'. My main computer runs Vista 64-bit and other remote USB drivers I tested were incompatible. This one seemed to work just fine".

Key features of the program include:
-Unlimited USB devices can be shared on server -Unlimited USB devices can be accessed from client -Auto-sharing of new USB devices -Auto-sharing exclude list -Auto-connecting of USB devices which got shared on the server -USB devices safe removal is supported Developed for Linux and Microsoft Windows Vista, XP, 2000, 2003 Server, Server 2008 and USB v1.1 and USB v2.0, hardware Universal Serial Bus controllers, Hyper-Threading technology, multiprocessor platforms compatible. True Plug-and-Play.

The download time has started and everyone is welcome to the program's homepage to grab the new version at http://usb-over-network.com/usb-over-network-download.html

About FabulaTech
FabulaTech is a software development company. Established in 2000, FabulaTech specializes in device driver development, application development and systems internals programming for Microsoft Windows, Linux and Embedded operating systems. FabulaTech embraces the ideal of providing personalized service with the customer's needs in mind, all the time. Our success is directly attributable to working closely with our customers to assure their requirements are clearly identified and defined. A complete work plan is defined and agreed upon prior to beginning development and milestones are closely monitored to be assured that projects meet not only the technical objectives, but cost and schedule goals are realized.

---


Start Your

Free


Subscription to


Industry Market Trends

.