Product News: Computer Hardware & Peripherals
Single Board Computer withstands demanding environments.
Press Release Summary: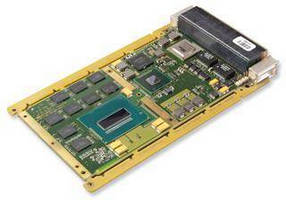 June 27, 2014 - Based on 4th Generation Intel® Core™ i7 quad core technology, SBC346 Rugged 3U VPX SBC supports up to 16 GB of memory and offers x16 PCI Express® link for maximum bandwidth to peripherals such as GPGPUs. I/O includes up to 3 Gigabit Ethernet ports, VGA port, 2 SATA 6 Gbps ports, 2 COM ports, up to 3 USB 2.0 ports, audio, and up to 8 GPIO pins. Available in air-cooled or conduction-cooled versions, system is suited for command and control, ISR, radar/sonar, EW, and signal processing.
Original Press Release
New 3U VPX Single Board Computer Delivers Increased Performance with no Increase in Size, Weight or Power Consumption
Press release date: June 17, 2014
SBC346 features 4th Generation Intel® Core™ i7 ('Haswell') quad core technology
Up to 15% higher CPU processing speeds, 30% higher 3D performance
Provides straightforward, cost-effective upgrade/technology insertion

HUNTSVILLE, AL. — GE Intelligent Platforms today announced the SBC346 Rugged 3U VPX Single Board Computer. Based on 4th Generation Intel® Core™ i7 ('Haswell') quad core technology, it offers significantly higher levels of performance than its predecessor while maintaining the same SWaP (size, weight and power) characteristics. The SBC346 is the fourth embedded computing platform announced by GE to feature Intel's latest processor.

Typical applications for the SBC346 include command and control, ISR (intelligence, surveillance and reconnaissance), radar/sonar, EW (electronic warfare) and signal processing in confined environments such as unmanned vehicles. It is available in five build levels, from air-cooled for benign environments to fully rugged conduction-cooled for deployment in the harshest, most demanding environments.

The SBC346 takes full advantage of up to 15% higher CPU processing speeds, 30% higher 3D performance (compared to 3rd generation Core i7 technology), higher bandwidth connectivity and enriched security and responsiveness with new Intel AES instructions.

Notably, the SBC346 offers a x16 PCI Express® link (Gen3-capable) for maximum bandwidth to high performance peripherals such as GPGPUs, or for multiple high bandwidth links to multiple peripherals using a combination of x4 and x8 PCI Express ports

The SBC346 is also pin-compatible with the PCI Express and I/O configuration of earlier 3U VPX single board computers from GE, in line with the company's commitment to maximizing the long term value of customer investments, making it a straightforward, cost-effective upgrade/technology insertion opportunity for programs needing increased processing power without impacting the SWaP envelope.

"Customers are designing more complex applications and often need to address significant SWaP issues," said Richard Kirk, Product Manager, Military/Aerospace Single Board Computers at GE Intelligent Platforms. "The military/aerospace market depends on solutions that provide the latest processing technology to augment current embedded computing performance without increased power usage. The SBC346 responds to that need."

Up to 16GBytes of memory is supported by the SBC346. I/O includes up to three Gigabit Ethernet ports; a VGA port; two SATA 6 Gb/s ports; two COM ports; up to three USB 2.0 ports; audio (on some build variants); and up to eight GPIO pins.

A rich software choice is available for the SBC346, including comprehensive Deployed Test Software (Built-In Test and Background Condition Screening) and AXIS (GE's Advanced Multiprocessor Integrated Software development environment), as well as support for Windows® 7, Open Linux®, Wind River® Linux, VxWorks®.

About GE Intelligent Platforms
GE Intelligent Platforms is a General Electric (NYSE: GE) company, headquartered in Charlottesville, VA and part of GE Energy Management. The company's Military/Aerospace business, headquartered in Huntsville, AL, and Towcester, England, provides one of the industry's broadest ranges of high performance, rugged, SWaP-optimized embedded computing platforms. Backed by programs that provide responsive customer support and minimize long term cost of ownership for multi-year programs, GE's solutions are designed to help customers minimize program risk and cost, and to speed time-to-market. For more information, visit defense.ge-ip.com.

About GE
GE (NYSE: GE) works on things that matter. The best people and the best technologies taking on the toughest challenges. Finding solutions in energy, health and home, transportation and finance. Building, powering, moving and curing the world. Not just imagining. Doing. GE works. For more information, visit the company's website at www.ge.com.

For more information: http://defense.ge-ip.com/products/sbc346/p3721.
For more technical information: http://defense.ge-ip.com/download/sbc346/13599/3721/

Intel is a registered trademark, and Core is a trademark, of Intel Corporation. Windows is a registered trademark of Microsoft Corporation. PCI Express is a registered trademark of PCI-SIG. VxWorks and Wind River are registered trademarks of Wind River Systems. Linux is the registered trademark of Linus Torvalds.All other trademarks are the property of their respective owners.

Media contacts:
Ian McMurray
GE Intelligent Platforms
Phone: +44 (0) 1327 322821
Email: ian.mcmurray@ge.com