Simulation Software creates dynamic models of heavy equipment.
Press Release Summary: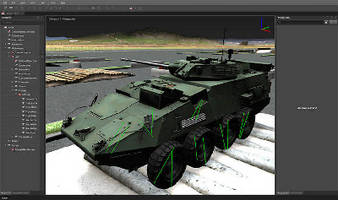 February 24, 2014 - Creating interactive vehicle and mechanical equipment simulations in realistic virtual environments, Vortex Dynamics v6.1 facilitates operator training and systems testing. Program provides tools for creating dynamic models of heavy equipment and cables, as well as earth-moving simulation capabilities, all of which are accessible via Vortex Editor. With Vortex Player, simulation integrators can obtain real-time view of what end-users will see.
Original Press Release
CM Labs Releases Vortex Dynamics 6.1
Press release date: February 14, 2014
Latest release includes new Editor features, focuses on ease of use

Montreal, QC, – CM Labs Simulations has released version 6.1 of its Vortex Dynamics Simulation Software. Vortex Dynamics is a platform for creating interactive vehicle and mechanical equipment simulations in realistic virtual environments, for operator training and systems testing.

Version 6.1 of the software provides new tools for creating dynamic models of heavy equipment and cables, as well as earth-moving simulation capabilities. These capabilities are now directly accessible via the Vortex Editor, the desktop-based editing tool built around Vortex.

New Tools for Rapid Simulation of Complex Systems and Equipment
As in previous versions of Vortex Dynamics, the Vortex Editor enables mechanical engineers and designers to quickly create, modify, and interact with mechanisms and scenes.

However, with this new release, the Vortex Editor also provides specific tools for simulating cable systems, vehicles, and earth-moving equipment:

Cable Systems Developer
The Cable Systems module allows mechanical engineers to quickly create simulations of complex cables and hoisting systems for heavy equipment, including adjustable parameters for winches, pulleys, and loads. This new module enables simulation of complex cable systems for heavy equipment, with no requirement for C++ development.

Vehicle Systems Developer
The Vehicle Systems module provides a range of industry-standard wheeled and tracked vehicles, based on pre-assembled building blocks that can be tuned directly in the user interface.

Users can access vehicle mechanical properties for power trains, such as engine, torque converter, transmission, and differential. Custom vehicle components can also be added via the module's API.

With all coding requirements eliminated, it is possible to directly leverage the experience and know-how of vehicle subject matter experts (SMEs) as simulations are created.

Earthwork Systems Developer
With the new Earthwork Systems module, users can accurately simulate interactions between heavy equipment and soil.  Ground materials include gravel, loam, sand, and clay, with a range of compaction levels. The module is pre-loaded with an earth-moving bucket tool to simplify the creation of vehicles such as front-loaders, backhoes, and excavators.

Additional Features in 6.1 Simplify Simulation Development Process

Vortex Dynamics 6.1 also introduces a number of additional new features designed to help users work more quickly and effectively:
• Vortex Player, a configurable preview tool that allows simulation integrators to obtain a real-time view of what end-users will see.
• Embedded Python scripting functionality makes it possible for Vortex to run Python scripts as part of its own execution.
• A new Vortex Simulink Add-on allows users to embed existing Simulink® models into their Vortex simulations.

"Our goal with this release was to ensure that engineers have all the tools they need to achieve results quickly," said Sebastien Miglio, CM Labs' Director of Product Development.

"With Vortex Dynamics 6.1, it's now possible to rapidly create complex dynamic models for extensible simulation applications, without sinking project resources into C++ development."

About CM Labs Simulations Inc.
For over 15 years, CM Labs has provided feature-rich simulation capabilities that set the industry standard for interactive 3D dynamics and simulated mechanical equipment behavior.

Through Vortex Dynamics, CM Labs provides capabilities for training simulators, mission rehearsal, serious games, virtual prototyping, and testing.

Vortex customers include FMC Schilling Robotics, iRobot, Honda Research, L-3, Lockheed Martin, NASA, Carnegie Mellon University, and over 100 other leading companies and academic institutions.

All CM Labs business processes are ISO 9001:2008 certified.

For more information about Vortex Dynamics 6.1, contact info@cm-labs.co