Product News: Test & Measuring Instruments, Software
Simulation Platforms test media and signaling gateways.
Press Release Summary: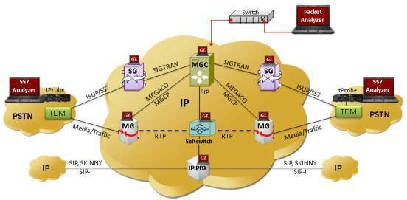 June 17, 2014 - MAPS™ Message Automation and Protocol Simulation platforms can be used to simulate various elements in hybrid TDM VoIP network. Typical platform simulating Signaling Gateway may consist of high density T1 E1 Cards, Gigabit Ethernet Card, multiprocessor CPU, and MAPS™ SIGTRAN and MAPS™ SS7 software. Pre-written scripts translate SS7 to Sigtran and vice a versa. For Media Gateways, high density T1 E1 Cards and MAPS™ Megaco or MAPS™ MGCP is required.
Original Press Release
GL Announces Products for Testing / Emulation Of Media and Signaling Gateways
Press release date: June 6, 2014
Gaithersburg, Maryland, USA — GL Communications Inc., announced today the release of its products for Testing/Emulation of Media and Signaling Gateway.

Speaking to reporters, Mr. Vijay Kulkarni CEO of the company said, "Carriers and enterprises are migrating to IP Networks from traditional PSTN Networks because IP Networks provide substantial advantages -- such as voice, data, and video convergence, greater platform densities, rapid service and feature enhancements, and productivity gains from unified communications. However, the transition to all IP requires "Gateways" that convert legacy signaling and traffic carried over TDM to new IP signaling / traffic carried over IP/Ethernet - therefore the need to test and emulate elements within both."

He added, "GL's MAPS™ (Message Automation and Protocol Simulation) platforms can be used to simulate various elements in a hybrid TDM VoIP network.  As depicted in the network diagram, SS7 signaling in the PSTN is translated to SIGTRAN by the Signaling Gateway (SG).  TDM traffic is repackaged into RTP packets by the Media Gateway (MG).  A Media Gateway Controller (MGC) controls the various elements within the IP Network using SIP, Megaco, and MGCP protocols.  The reverse may happen if the call is destined to PSTN.  If the call stays within the IP domain, then an IP PBX may route the call to an IP endpoint.

A typical MAPS™ platform simulating a Signaling Gateway may consist of high density T1 E1 Cards, a Gigabit Ethernet Card, a multiprocessor CPU (such as an i7 PC) and MAPS™ SIGTRAN and MAPS™ SS7 software. Pre-written scripts translate SS7 to Sigtran and vice a versa. Media Gateways can be similarly integrated using MAPS™ software products, for Media Gateways high density T1 E1 Cards and MAPS™ Megaco or MAPS™ MGCP is required. Similarly, MAPS™ can assume the role of any of the elements."

Mr.Kulkarni further explained, "Hundreds to thousands of calls can be generated by MAPS™ SS7, MAPS™ ISDN, or MAPS™ CAS elements. This includes TDM traffic such as voice and fax over T1 E1 and ISUP signaling per ITU-T, ANSI, ETSI and CHINA standards. ISDN and CAS are also supported.

MAPS™ SIGTRAN and MAPS™ SS7 can be combined into one entity to emulate a complete Signaling Gateway. M3UA, M2UA, and M2PA modes are easily supported.

MAPS™ MEGACO or MAPS™ MGCP can be configured with T1 E1 trunks to simulate a Trunking Media Gateway. Megaco signaling to/from a Media Gateway Controller is used to establish TDM to RTP connections and vice versa. Codec support is provided for common G.711 ULAW, G.711 ALAW, G.729, G.729B and many more. Fax is also supported.

MAPS™ MEGACO, MAPS™ SIP, MAPS™ MGCP, and MAPS™ SIGTRAN can be combined to perform Media Gateway Controller functions - interacting with multiple Media Gateways and multiple Signaling Gateways and as a SIP server as well. Scripts can be written to route calls to different Service Switching Point's and SIP users based on area codes.

PacketScan™ - an All-IP Analyzer can be configured on a remote system for capturing all-signaling - SIGTRAN, MEGACO, SIP and RTP Traffic in real-time. An SS7 Analyzer can be configured on a remote system for capturing all SS7 signaling and bearer traffic."

About GL Communications Inc.,
Founded in 1986, GL Communications Inc. is a leading supplier of test, monitoring, and analysis equipment for TDM, Wireless, IP and VoIP networks. Unlike conventional test equipment, GL's test platforms provide visualization, capture, storage, and convenient features like portability, remotability, and scripting

GL Communications has over the years worked with major telecom equipment vendors (EVs) and system integrators to meet the testing requirements arising at various stages of telecommunications product development life cycle. With its proven expertise of over 25 years, GL has a comprehensive suite of telecom testing solutions to verify and ensure 'quality and reliability' of variety of telecom networks including Wireless, and high-speed fiber optic lines.

GL's test tools range from simple PC-based software test tool to all-encompassing hardware units with futuristic expansion capabilities.  GL's test solutions cover wide array of networks – 4G (LTE), 3G, IP, Ethernet, T1, T3, E1, E3, OC-3/STM-1, OC-12/STM-4, and traditional PSTN networks.

GL's tools are widely used by the telecommunication industry for conformance testing, automated stress/load testing, performance testing, remote accessibility, centralized web-based control and analysis, fault testing and analysis, and customized testing.

For more information about GL's complete line of products,

Contact:
Shelley Sharma
Phone: 301-670-4784
E-mail: info@gl.com