Product News: Mounting & Attaching Products
Shock Absorbers protect heavy machinery and equipment
Press Release Summary: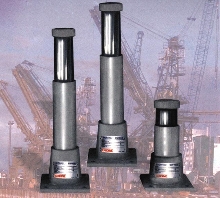 August 8, 2002 - Large bore HI Series hydraulic buffers have nitrogen-loaded separating piston that progressively dampens moving mass to provide minimal deceleration and force transfer to customer's mounting structure. It works at impact speeds from 6 to 200 ips over temperature range of 0 to 175°F. Applications include cargo transfer cranes, bridge crane control, foundry transfer lines, large container transfer, and transportation safety stops.
Original Press Release
Enidine Introduces New HI Series Shock Absorbers
Press release date: August 2, 2002
Orchard Park, NY -- Enidine Incorporated has officially introduced its new HI Series shock absorbers. The large bore, high-capacity hydraulic buffers are specially designed to protect heavy machinery and equipment during the transfer of materials and movement of products.
Enidine HI Series shock absorbers feature a nitrogen-loaded, separating piston design that progressively dampens a moving mass. Their design offers minimal deceleration and force transfer to the customer's mounting structure. Oversize piston rods, corrosion-resistant materials and epoxy painted surfaces allow the product to withstand demanding marine and other harsh environments. The HI Series offers impact speeds from 6 inches per second to 200 inches per second over a temperature range of -20 to 80 degrees Centigrade (0 to 175 degrees Fahrenheit). They provide reliable energy absorption technology for applications such as cargo transfer cranes, bridge crane control, foundry transfer lines, large container transfer and transportation safety stops. The high-energy capacities of the HI Series, contained within a smaller envelope size, make the product ideal for applications that need to minimize space and maximize performance.
According to Christopher Lee, Enidine vice president and general manager, "Customer demand in providing an energy absorption solution for the expanding overhead crane and transportation markets has led to the development of this new product family. HI Series shock absorbers will allow Enidine customers to benefit from the same consistency and high-performance as our standard HD models, but will offer them large energy capacities in a smaller, more rugged unit size to meet market requirements."
Founded in 1966, Enidine Incorporated is a manufacturer of both standard and custom energy absorption, vibration isolation and motion control solutions, including shock absorbers, rate controls, air springs, wire ropes and elastomeric for industrial, commercial aviation and defense markets. Since its inception, the company has provided unparalleled customer service and full engineering support to a broad customer base through its three manufacturing facilities - in Orchard Park, New York; Bad Bellingen, Germany; Yokohama, Japan - and an extensive global distribution network.