Servo Drives work with various types of motors.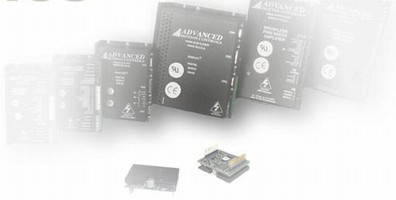 Servo Drives work with various types of motors.
March 22, 2007 - Via selection of feedback choices and input command sources, DigiFlex® Performance(TM) series can drive permanent magnet brushed or brushless motors, voice coil actuators, and closed-loop ac induction motors. Flexible I/O and event control assignments permit drive configuration without having to reconfigure system. While built for configurability, series also offers power range scalability and drive package flexibility.

(Archive News Story - Products mentioned in this Archive News Story may or may not be available from the manufacturer.)
Original Press release

Advanced Motion Controls, Inc.
3805 Calle Tecate
Camarillo, CA, 93012
USA



DigiFlex® Performance Servo Drives from ADVANCED Motion Controls


ADVANCED Motion Controls is proud to announce a new motion control servo drive platform, DigiFlex® PerformanceTM. All servo drives in this series are configurable and can drive permanent magnet brushed or brushless motors, voice coil actuators and closed-loop AC induction motors. With a varied selection of feedback choices and input command sources, this series is the foundation for many motion control solutions.

Adaptability and ease of integration were paramount to the design's architecture. Distributed networks, centralized analog or digital control schemes, feedback from incremental, absolute and sine/cosine encoders or resolvers allow OEM machine builders to choose whatever drive package they need. Completely flexible I/O and event control assignments allows integrators to configure drives without having to reconfigure their system.

All of this is also incorporated with wide power range scalability. Nearly all features are available whether the power requirements are for 100W continuous or less at 24VDC or more than 40kW peak at 480VAC. Best of all, these solutions are configured from the same companion set up software package, DriveWareTM, regardless of drive selected.

Early introduction of this product line has proven effective across a wide range of applications in many industries. Highlighting some of those here may be of benefit for your motion control considerations. For example...

The DPC and DZC CANopen network servo drives are being used for distributed control by medical imaging machine manufacturers for diagnostics and treatment, military and law enforcement robot manufacturers for ordinance control / personnel safety, baggage scanning equipment manufacturer for transmission ring control, chiropractic device manufacturer for patient table motion and electric utility vehicle manufacturers for forklift / scissor lift control.

DPR and DZR series have been selected on centralized control systems with RS-232/485 commands, analog signals, encoder following or step & direction inputs for network queued autonomous delivery robots, liquid dispensing machine manufacturers for height and pump control, multiple axes of motion for undersea exploration by a remote operating submersible manufacturer, plasma cutting action by a metal working machinery manufacturer, remote surgical operation by a medical apparatus manufacturer and the foundation of X, Y and Z movement for a general factory automation actuator platform manufacturer.

Currently, the DPQ series are leading other drive contenders for use of control over SynQNet on new front-end semiconductor manufacturing machinery.

As noted, these are just a few of the initial application solutions ADVANCED Motion Controls has already worked on in advance of a general market release. Flexibility in design and cost-effectiveness has propelled the DigiFlex® PerformanceTM series servo drives as the motion control solution of choice.

Look to ADVANCED Motion Controls in the near future for a new soft motion software package to provide solutions for PC-based control systems using DigiFlex® PerformanceTM servo drives.

DigiFlex® PerformanceTM series by ADVANCED Motion Controls, any control - any motor - any feedback!

For more information, contact Karl Meier, Marketing Manager, ADVANCED Motion Controls at (805) 389-1935 or visit our web site at www.a-m-c.com.

---


Start Your

Free


Subscription to


Industry Market Trends

.