Sealed IP67 Rocker Switches handle large inrush currents.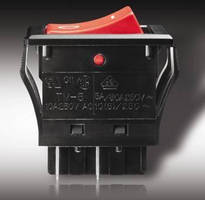 Sealed IP67 Rocker Switches handle large inrush currents.
March 8, 2011 - Featuring 25 x 15.4 mm panel cut out, JWMW Series is certified for TV-5 with electrical capacity of 10 A at 125/250 Vac resistive and 30 Vdc. Larger JWLW devices, with panel cut out of 30.7 x 20.5 mm, are TV-8 rated with electrical capacity of 16 A at 125/250 Vac and 5 A at 72 Vdc. All snap-in mounted panel switches offer dust resistance with interior polyphenylene sulfide seal between actuator and contact area. Housings and cases are polyamide, which meets UL's 94V-0 standards.

(Archive News Story - Products mentioned in this Archive News Story may or may not be available from the manufacturer.)
Original Press release

NKK Switches
7850 E. Gelding Dr.
Scottsdale, AZ, 85260-3420
USA



NKK Switches Announces IP67 Rated Panel Sealed Rocker Switches


JWMW and JWLW series represent an industry first

SCOTTSDALE, Ariz. - NKK Switches, the world's leading designer and manufacturer of innovative electromechanical switches, today announced the availability of the JWMW and JWLW series, the industry's first molded, IP67 rated panel sealed rocker switches with TV ratings. These snap-in mounted devices are specifically designed to handle large inrush currents.

The smaller JWMW series features a panel cut out of 25mm X 15.4mm and is certified for TV-5. It has an electrical capacity of 10A @ 125/250V AC resistive and 10A @ 30 V DC. Larger JWLW devices have a panel cut out of 30.7mm X 20.5mm and are TV-8 rated with an electrical capacity of 16A @ 125/250V AC and 5A @ 72V DC.

JWLW devices are particularly well suited as power distribution switches for telecommunications applications. The series' capabilities exceed a 160A inrush load. Major telecommunications companies such as Nortel, Alcatel, Motorola and Ericsson have designed applications using these switches.

These devices have an exterior seal covering the flange that is an integral part of the switch. They are rated to IP67 of IEC60529 standard, which is similar to NEMA 4 and 6. An optional watertight boot is also available. Featuring UL, CSA and VDE approvals, JWMW and JWLW switches also carry a flammability rating of UL94V-0.

All JW rocker switches are constructed for dust resistance with an interior polyphenylene sulfide seal between the actuator and contact area. These devices also feature prominent external insulating barriers which increase the insulation resistance and dielectric strength.

JW housings and cases are polyamide, a heat resistant resin meeting UL's 94V-0 standards. The solder lug/quick connect terminals are molded in and epoxy sealed to lock out flux, dust and other contaminants. The terminals are also specially designed to break light contact welds and can be used with connectors.

Design engineers can configure SPST, SPDT, DPST or DPDT circuits. All single throw models can be ordered with the international inscriptions for ON and OFF. These can be specified in vertical or horizontal orientation to accommodate any panel placement needs.

JW devices include an integral rocker cap available in color options of black, gray, ivory or red. Housings can be specified in black, gray or ivory.

A leading designer and producer of electromechanical switches, NKK Switches offers one of the industry's most extensive selections of illuminated, process sealed, miniature, specialty, surface mount and programmable switches. NKK manufactures more than 3.5 million toggle, rocker, pushbutton, slide, rotary, DIP rotary, keypad and keylock switches, each of which can be used as the foundation of a customized design. All switches are designed and manufactured to provide the quality and dependability that has made NKK the benchmark for reliability for over half a century.

NKK continues to lead the industry in responding to the needs of the marketplace with innovation, high reliability, customization and a commitment to excellence. The company provides a full suite of customization solutions that include: design, programming, printing and support. Downloadable 3D CAD models of the company's switches are available, allowing design engineers to quickly integrate complex models into their designs at no charge. NKK maintains a complete network of qualified representatives and distributors through the United States, Canada, Central and South America, Europe and Asia.

Engineers who design the human-machine interface for their products rely on the broad product line, specialized design expertise and customer support of NKK Switches. For more information, contact NKK Switches, 7850 E. Gelding Dr., Scottsdale, AZ 85260. Phone: (480) 991-0942. Fax: (480) 998-1435. Visit the NKK Web site at www.nkkswitches.com.

---