Product News: Test & Measuring Instruments, Material Handling & Storage, Fluid & Gas Flow Equipment, Mechanical Power Transmission
Sanitary Clamping Coupling helps protect fragile products.
Press Release Summary: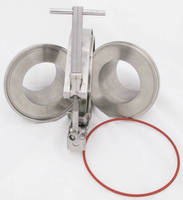 January 14, 2014 - Quick Clamp No-Ledge delivers machined tolerance joint, ensuring proper alignment and creating ledge-free interior environment on connection points. This reduces instances where friction and crevices catch product and cause fines. Designed for food and light industry conveying of fragile materials or materials requiring sanitary conditions, coupling offers recessed O-ring gasket that delivers smooth transition through positive sealing metal-to-metal joint.

Original Press Release
Part of Clean Design Initiative, New Mac Process Quick Clamp No-Ledge Coupling Protects Fragile Products and Speeds Cleaning and Inspection
Press release date: January 7, 2014
KANSAS CITY, Mo. – Schenck Process LLC, North America's largest design/build provider of pneumatic conveying, air filtration, weighing and feeding systems and manufacturer of Mac Process and Schenck AccuRate equipment, today launched  the new Quick Clamp No-Ledge coupling.  Part of the visionary Clean Design Initiative, the Quick Clamp No-Ledge coupling is designed for food and light industry conveying of fragile materials or materials requiring a high degree of sanitation.

Unlike a compression coupling, which can have frequent pipe misalignment during installation, the Mac Process Quick Clamp No-Ledge coupling delivers a machined tolerance joint.  This ensures proper alignment and creates a ledge-free interior environment on connection points.  As a result, friction and crevices which catch product and cause fines are greatly reduced.

The Quick Clamp No-Ledge coupling offers a recessed O-ring gasket that delivers a smooth transition through a positive sealing metal-to-metal joint.  This eliminates gasket contact with the product stream—a critical improvement in sanitary piping system design.  Quick Clamp No-Ledge is available with a single T-handle or nut, or backing flanges that tightens the clamp around the male and female flanges. The clamp presses the face of the male and flanges together by way of a bevel on the edge of each flange compressing the o-ring creating an air tight seal.  Lightweight design and a tool-free assembly option speeds installation.

"The Quick Clamp No-Ledge coupling makes it easier for customers to clean their equipment after a campaign is finished to prevent bacterial growth and facilitate inspections," said Jay Brown, VP of Light Industry for Schenck Process Group, and President and CEO of Schenck Process LLC. "Best of all, as a single source supplier and manufacturer, we're able to improve control over lead time and quality."

Quick Clamp No-Ledge can be also used in applications where color-changeouts are common; or for hazardous or inert materials where piping connections must maintain a positive seal.  A significant improvement, the Quick Clamp No-Ledge coupling is now available in extended sizes from 3" to 16".

About Schenck Process
The name Schenck Process is synonymous with more than 125 years of experience and is a strong brand.  Originally founded as an iron foundry and weighing machine factory, it has grown to become one of the global market leaders in applied measuring and process technology.  In 22 countries on five continents, more than 3,200 employees are developing innovative solutions for weighing, feeding, conveying, screening, automation and air filtration technology processes.  The members of the Schenck Process Group are: Schenck Process, Schenck AccuRate, Stock, Redler, Fairfield, Screenex, Pentec, Clyde Process and Mac Process.

For information about this press release, please contact Mike Karas, Director of Marketing, Schenck Process LLC at 262-473-2441 ext. 4247 or m.karas@schenckprocess.com