Sales Software optimizes funnel management predictability.
Press Release Summary: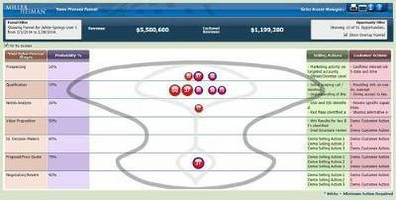 March 24, 2014 - Embedded in Sales Access Manager, Sales Process Funnel visually displays all-encompassing view of sales funnel within organization's CRM system. Tool displays funnel shape, value, and opportunities within salesperson's, team's, or organization's funnel. Color and size cues allow managers and salespeople to filter out noise within funnel and quickly identify what selling activities salesperson should be engaging in.
Original Press Release
Miller Heiman Unveils New Tool to Improve Funnel Management Predictability
Press release date: March 18, 2014
The new tool provides salespeople and managers simple and accurate insights into funnel opportunities through digital platforms.

RENO, Nev.,  -- Miller Heiman today announced the release of Sales Process Funnel, a tool that visually displays an all-encompassing view of the sales funnel within an organization's CRM system.

Learn more about the Miller Heiman Gateway App at:
http://www.millerheiman.com/salesprocessfunnel

"In conversations with customers, a common theme has been bringing more predictability to their organization - and sometimes any predictability," said Bethany Schultz Tervalon, Executive Vice President of Products and Client Engagement at Miller Heiman. "Sales Process Funnel is a game-changing tool for our customers to bring the type of precision and transparency required to continuously improve performance."

Sales Process Funnel displays the funnel shape, value and opportunities within a salesperson's, team's or organization's funnel. Color and size cues allow managers and salespeople to filter out the noise within the funnel and quickly identify what selling activities a salesperson should be engaging in.

The tool is embedded in Sales Access Manager(SM), Miller Heiman's technology platform that integrates sales process enablement with CRM systems and uses the customized framework of the organization's sales process as designed during the Strategic Selling® Funnel Management workshop. Sales Process Funnel also integrates with the Strategic Selling® Blue Sheet and Funnel ScoreCard®, providing a full view of every sales opportunity and increasing the precision of information in the CRM.

"For the first time, salespeople and managers have a tool that drives accurate funnel data because it makes inspection easier and, most importantly, drives their individual success." Tervalon continues to add, "That accurate data then fuels sales leadership's precision in understanding the organization's funnel which increases their credibility and the strategic importance they have within their organization.

About Miller Heiman - The Sales Performance Company
Miller Heiman is a proven leader in sales performance, bringing game-changing insight to sales leaders worldwide for more than 35 years.  For more information, visit www.millerheiman.com

CONTACT: Lindsay Cavarra, lcavarra@millerheiman.com,  775-284-9034