Product News: Safety & Security Equipment
Safety Eyewear protects against laser wavelengths.
Press Release Summary: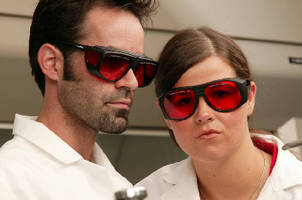 September 11, 2013 - Designed to protect against specific or combined laser wavelengths, NoIR LaserShields® are CE-certified and manufactured using stringent processes in combination with strict tolerances that ensure all filters exceed performance and absorption specifications. Products meet requirements of 89/686 EEC Personal Protective Equipment and are classified Class 1 per rule 1 in Annex IX of Medical Device Directive 93/42/EEC + 2007/47/EC. Over 1,000 combinations of filters and frame styles are available.
Original Press Release
Elliot Scientific Introduces the NoIR LaserShields® Eyewear Product Range
Press release date: September 5, 2013
Harpenden, UK — Elliot Scientific's existing laser safety portfolio is now complemented by our introduction of the NoIR LaserShields® eyewear product range.

NoIR LaserShields®, who have been manufacturing laser safety eyewear for multiple applications since 1996, offer a comprehensive group of filters for protection against specific or combined laser wavelengths, a broad choice of frames to suit face and pocket, and additional products for patient/client protection, medical/aesthetic laser users and civil/commercial aeroplane/helicopter pilots who are prone to abuse from laser pointer attack.

The NoIR LaserShields® Elliot Scientific offers are CE-certified (EN207/208)  and manufactured using stringent processes in combination with strict tolerances that ensure all filters exceed performance and absorption specifications.

LaserShields® meet the requirements of 89/686 EEC Personal Protective Equipment and are classified Class 1 per rule 1 in Annex IX of the Medical Device Directive 93/42/EEC + 2007/47/EC.

Over 1,000 different combination filters and frame styles are available to purchase online at http://www.elliotscientific.com/533-0/NoIR-LaserShields/

Elliot Scientific  always recommends consulting your laser safety officer, appropriate laser safety standards and laser system documentation to ensure correct selection of eyewear before purchase.

Remember, laser safety eyewear offers protection only against incidental exposure to specified beam energies, so incorrect choice and use may lead to serious personal injury or blindness.

About Elliot Scientific Ltd.
Elliot Scientific, based in Harpenden, is a major UK supplier of Opto-Mechanic, Laser, Cryogenic, Magnetic and Fibre-Optic components and systems to the Scientific, Research and Industrial communities. We manufacture our own ranges, including the award winning Optical Tweezer systems, that are marketed under the Elliot|Martock and Elliot Scientific brands, and also offer high-tech products and equipment from leading manufacturers based around the world. For more information, please visit www.elliotscientific.com

About NoIR
NoIR Laser Company, L.L.C., of South Lyon, Michigan, USA, has been manufacturing internationally-certified laser safety eyewear for medical, military, aviation, aerospace, scientific and industrial applications since 1996. For more information, please visit www.noirlaser.com

For more about this press release information, please contact:
David Ward
Elliot Scientific Ltd
3 Allied Business Centre, Coldharbour Lane,
Harpenden, Hertfordshire, AL5 4UT, United Kingdom
Tel: +44 (0)1582 766 300    Fax: +44 (0)1582 766 340
david.ward@elliotscientific.com
www.elliotscientific.com

Follow Elliot Scientific on:
Wordpress - http://bit.ly/zujscN
YouTube - http://bit.ly/yh6wGU
Facebook - http://on.fb.me/yrdvv1
Google+ - http://bit.ly/x8Ym7v
LinkedIn - http://linkd.in/zGKWw1