SPC Software helps manufacturers understand asset utilization.
Press Release Summary: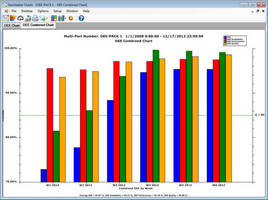 January 20, 2014 - OEE (Overall Equipment Effectiveness) charts in GainSeeker® v8.3 help manufacturers learn how well their assets are being used to produce quality products, determine if more can be produced during scheduled production times, and spot problem areas/times. Along with drill-down and scrap costing features, software offers Inspection Editor that helps create inspection processes (run on computer or mobile device with GainSeeker Collect app) as well as set up data collection scenarios.
Original Press Release
OEE Charts Highlight Latest Release of Gainseeker Suite SPC Software
Press release date: January 13, 2014
GOSHEN, INDIANA – OEE (Overall Equipment Effectiveness) charts are among new features in the just-released version 8.3 of Hertzler Systems' GainSeeker® Suite SPC software.

OEE helps manufacturers learn how well their assets are being used to produce quality products, and to determine if more can be produced during scheduled production times. It can also help manufacturers spot problem areas and timestimes.

"Over the last few years, a number of our customers have used GainSeeker to collect and analyze OEE data," said Evan Miller, Hertzler Systems Inc. CEO and president. "We looked at what they were doing, and added features to make GainSeeker even more powerful and useful in their efforts to drive manufacturing excellence."

Version 8.3 also includes new scrap costing features, which Miller said are consistent with "Hertzler's continuing commitment to support full integration between GainSeeker and other manufacturing systems.

"Our customers have scrap data in all kinds of systems, and they can easily analyze that data using GainSeeker Suite. GainSeeker's drill-down features help them quickly get to the key drivers of cost and lost productivity."

Another new feature in Version 8.3 Anis the Inspection Editor that can help customers easily create an inspection processes.s is another new feature in Version 8.3. These Inspection processes can created with the editor can be run on a standard computer or a mobile device, such as an iPad that has the downloadable GainSeeker Collect app.such as an iPad that has the downloadable GainSeeker Collect app.

The Inspection Editor gives GainSeeker customers more power and options for setting up data collection scenarios, Miller said. "This is an easy-to-use editor for setting up simple data collection procedures. It puts more power control in customers' hands. It can ultimately save them time and money."

A unique feature of GainSeeker Suite is that it includes "all the tools in one place that can help customers improve processes, save money, and make their customers happier," said Miller. "There are no 'add-on' modules to buy. They are all in one place."together in GainSeeker."

Hertzler offers a free trial period for its software. The potential customer's own data can be used to give them a present a realistic picture about how GainSeeker can help save them money. Hertzler also offers a free web-based GainSeeker demonstration that provides provides an overview of all of its features. Visit the Hertzler.com website or call 800-958-2809 to learn more. More details about GainSeeker 8.3 can be found in Hertzler's blog post on www.hertzler.com by clicking here.

About Hertzler Systems

Hertzler Systems has been a leader in Statistical Process Control, SPC software, and Six Sigma for over 30 years. We serve a diverse customer base in service, transaction, and multiple types of manufacturing environments. GainSeeker software and services enable clients to connect, collect, and analyze data, building a data infrastructure for making data-driven decisions. These capabilities help clients to reduce costs, cycle time and errors, and increase profitability. These are Hertzler's core competencies.


Media Contact:
Evan Miller 
Telephone: 800-958-2709
Email: emiller@hertzler.com