SMD Fuse with Clips offers primary/secondary protection.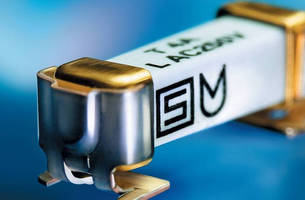 SMD Fuse with Clips offers primary/secondary protection.
April 29, 2009 - Model UMZ 250 Universal Modular Fuse and fuseholder combination features gold-plated caps for reflow soldering to PCB. Providing overcurrent circuit protection, compact, leadless unit offers low profile for maximized production speed. Current ratings range from 315 mA to 4 A, with voltage ratings of 250 Vac and 125 Vdc according to IEC and 277 Vac and 250 Vdc to UL. Unit opens according to IEC 60127-4 time-lag characteristic and has rated braking capacity of up to 200 A.

(Archive News Story - Products mentioned in this Archive News Story may or may not be available from the manufacturer.)
Original Press release

Schurter, Inc.
447 Aviation Boulevard
Santa Rosa, CA, 95403
USA



SMD Fuse with Clips Saves Space; Adds Versatility to Design


Replaceable or stand-alone SMD fuse provides primary or secondary protection in one SMD package

Santa Rosa, California, April 2, 2009. Schurter's original IEC 60127-4 Universal Modular Fuse, series UMT 250, is now offered in a convenient package to simplify fuse replacement. The new fuse and fuseholder combination, dubbed the UMZ 250, provides high performance overcurrent circuit protection in primary or secondary circuits. The compact and leadless unit also provides assembly advantages over conventional through-hole fuse blocks and clips. The low profile facilitates increased production speed,
especially with assembly processes using automated pick and place systems.

Current ratings for the fuse with fuse clips range from .315 mA to 4 A. The stand-alone fuse UMT 250 includes twenty two current ratings, ranging from 80 mA to 10A. Voltage ratings are 250 VAC and 125 VDC according to IEC and 277 VAC and 250 VDC according to UL. The fuse opens according to IEC 60127-4 time-lag characteristic. Rated breaking capacity is up to 200A, which is desired for a wide range
of primary circuit protection including power supplies, AC/DC converters, IT equipment, consumer electronics, battery chargers and health care devices. It is also ideal for secondary circuit protection in PC Cards, DC Motors, I/O Cards, and FET Protection, which require lower voltages.

The UMZ 250 has gold plated caps for the purposes of the initial reflow soldering to the PCB. The UMT 250 fuse with tin-plated caps can be used to replace the original fuse. Pricing starts at about 60 cents each per 100 pieces for the UMT 250. They are available in plastic bags of 100 pieces or tape and reel. Details can be found at http://www.schurterinc.com/new_fuses. For sales and product information, contact Cora Umlauf at: 1-800-848-2600 or info@schurterinc.com.

About Schurter Inc.

The Schurter Group, founded in Switzerland in 1933, is an internationally recognized manufacturer and supplier of electronic components for the high-tech industry. Schurter's product innovation focuses in four strategic business areas including fuses, connectors including EMC filter components, circuit breakers for equipment, and human to machine input systems. Schurter, Inc. Santa Rosa, California, is the exclusive
North American sales and distribution office for the Schurter Group.

---