SCARA Robots work with Micro PowerDrive controllers.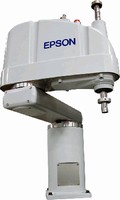 SCARA Robots work with Micro PowerDrive controllers.
February 20, 2008 - Available in 168 models ranging from 450-1,000 mm in reach, G-Series combines smart motion control technology with high rigidity arm design to achieve optimum speed and precision with minimal vibration. Robot arms are available in standard, Class 10 Clean, or IP54/65 configurations as well as tabletop, wall, or ceiling mount versions. Vision Guidance, DeviceNet, Profibus, Ethernet IP, and Microsoft .NET support are optional.

(Archive News Story - Products mentioned in this Archive News Story may or may not be available from the manufacturer.)
Original Press release

EPSON Factory Automation/Robotics
18300 Central Avenue
Carson, CA, 90746
USA



EPSON Robots Announces New G-Series Robots


EPSON Robots Achieves Top of Class for SCARA Robots

Carson, CA - February 7, 2008 - EPSON Robots, the gobal leader in PC controlled, precision robots introduced today the EPSON G-Series, the next generation, high performance SCARA Robots for our Micro PowerDrive Controllers. EPSON G-Series SCARA's provide the ultimate high speed, high precision performance results even with high payloads. Combined with the powerful EPSON Micro PowerDrive Controller, the new G-Series Robots provide best in class performance combined with ease of use all at a remarkably low price.

"The new G-Series SCARA robots are the latest component of our Power of Choice company philosophy which gives customers a choice of robots, controls and other automation solutions to best fit their applications" stated Michael Ferrara, Director of EPSON Robots. "With over 168 models to choose from, the G-Series lineup gives customers a wide variety of models ranging from 450mm to 1000mm in reach. Equally important are the performance improvements achieved with the new G-Series arms. With speed and payload improvements of over 20%-100% vs. our previous generation SCARA models, the EPSON G-Series represents significant performance improvements that will result in more parts processed and moreprofits for our customers."

EPSON's original smart motion control technology is combined with a new high rigidity arm design to achieve ultra-high speed, ultra-high precision, and low vibration and put EPSON G-Series Robots in the top class of the industry. The G-Series robots have greatly improved their speed over current models and are able to carry out high speed operation, short and long moves and transport light or heavy payloads with the ultimate performance results. All G-Series robot arms are available in standard, Class 10 Clean, or IP54/65 configurations. They are available in tabletop, wall or ceiling mount configurations as well.

By utilizing the easy to learn and use EPSON Micro PowerDrive Controller, even first-time users can easily build systems that offer outstanding performance at a low cost. With integrated options such as Vision Guidance, DeviceNet, Profibus, Ethernet IP, and Microsoft .NET support, development time is significantly reduced by allowing developers to focus mre on the application at hand.

More information about the EPSON G-Series can be found at the EPSON Robots website: robots.epson.com/g-series.htm

Download this press release as word doc and graphic file at: robots.epson.com/epson_gseries.zip

About EPSON Robots
EPSON Robots is the global leader in PC controlled precision factory automation, with an installed base of over 18,000 robots and a product line of hundreds of models of easy to use SCARA, Cartesian and 6 axis robots based on a common PC platform. Building on a 21 year heritage, EPSON Robots today delivers robots for precision assembly and material handling applications in the aerospace, appliance, automotive, biotechnology, consumer product, electronics, food processing, medical device, pharmaceutical, plastics, semiconductor, and telecommunication industries. More information can be found on the company's website at www.robots.epson.com, or contact us at EPSON Robots, 18300 Central Avenue, Carson, CA 90746, USA. Website: http://www.robots.epson.com

EPSON Robots
Rick Brookshire
Marketing Manager
Email: rick_brookshire@ea.epson.com
Phone: (562) 290-5910

---


Start Your

Free


Subscription to


Industry Market Trends

.