Product News: Computer Hardware & Peripherals
SBCs address mission-critical avionics applications.
Press Release Summary: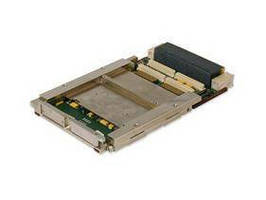 November 5, 2013 - Equipped with Wind River® VxWorks® 653 software, SBC625 6U OpenVPX is based on Intel® Core™ i7 processor, while SBC312 3U OpenVPX features Freescale's 8-core QoriQ™ P4080 processor. VxWorks 653 delivers integrated modular avionics foundation aerospace and defense companies need to address safety and security requirements of mission critical applications. It supplies complete ARINC 653 Part 1 conformance and provides technology to deliver future conformance with FACE™ Safety Base Profile.
Original Press Release
GE Single Board Computers Now Address Mission-Critical Avionics Applications with Availability of Wind River® VxWorks® 653
Press release date: October 29, 2013
6UOpenVPx SBC625, 3U OpenVPX SBC312 can be deployed in environments in which safety is of paramount concern

Enables compliance with FACE™ Technical Standards

HUNTSVILLE, AL – GE Intelligent Platforms (NYSE: GE) today announced availability of the Wind River® VxWorks® 653 Platform in two of its rugged single board computer products: the SBC625 6U OpenVPX based on the Intel® Core™ i7 processor and the SBC312 3U OpenVPX, which features the 8-core QorIQ™ P4080 processor from Freescale™. This allows GE's hardware to be used by military and aerospace organizations in mission-critical avionics applications in which safety and security are of paramount concern.

The VxWorks 653 software platform delivers the stringent integrated modular avionics (IMA) foundation aerospace and defense companies need to address the safety and security requirements of mission critical applications, as well as the portability and reusability requirements of non-critical applications.

For organizations developing solutions designed to comply with the FACE™ (Future Airborne Capability Environment) reference architecture that is increasingly being mandated as a requirement by the US military, VxWorks 653 provides the base technology to deliver future conformance with the FACE Safety Base Profile of the FACE Technical Reference Manual.

The VxWorks 653 platform supplies complete ARINC 653 Part 1 conformance and expands the ARINC 653 XML configuration capabilities to enable a true multi-vendor platform that supports fully independent RTCA DO-297/EUROCAE ED-124 IMA supplier sourcing.

"The combination of GE's rugged, multicore VPX single board computers and the VxWorks 653 software platform enables customers to combine leading edge hardware performance with the safety-critical functionality that Wind River's software platform brings," said Andy West, Product Manager, Military and Aerospace Software at GE Intelligent Platforms. "This combination of rugged hardware and strictly partitioned software allows customers to maximize the value of their investments without compromising SWaP requirements or sacrificing application integrity."

The SBC625 brings substantial processing power, graphics capability, I/O bandwidth and functional density to customers developing and deploying demanding mil/aero applications, which include command/control, ISR (intelligence, surveillance, reconnaissance), radar/sonar and signal processing.

For demanding space- and weight-constrained environments such as unmanned vehicles, the SBC312, with its 8-core processor, brings significantly higher performance and throughput while maintaining the power consumption and heat dissipation characteristics of earlier dual core 3U VPX single board computers.

"With its industry-leading capabilities, VxWorks 653 enables customers to address safety requirements and drive advances in mission-critical applications," said Joe Wlad, Senior Director of Product Management at Wind River Systems. "The availability of VxWorks 653 on GE's SBC625 and SBC312 provides customers with a choice of hardware platforms that are well matched to the requirements and functionality of a multiple criticality, partitioned software platform."

VxWorks 653 serves as a key technology in a wide range of commercial, space, safety and mission-critical programs, both manned and unmanned, around the globe. It is used in over 300 programs by more than 165 customers on over 60 aircraft, including Airbus and Boeing commercial and military aircraft such as the Airbus A400M and Boeing 787, NASA space vehicles, as well as advanced autonomous vehicles such as the nEUROn.

Board support packages (BSPs) for VxWorks 653 for the SBC625 and SBC312 are available at no cost from GE Intelligent Platforms for purchasers of these single board computers.

About GE
GE (NYSE: GE) works on things that matter. The best people and the best technologies taking on the toughest challenges. Finding solutions in energy, health and home, transportation and finance. Building, powering, moving and curing the world. Not just imagining. Doing. GE works. For more information, visit the company's website at www.ge.com.

Wind River and VxWorks are registered trademarks of Wind River Systems, Inc. Intel is a registered trademark, and Core is a trademark, of Intel Corporation. Freescale and QorIQ are trademarks of Freescale Semiconductor Inc. FACE is a trademark of The Open Group. All other trademarks are the property of their respective owners.

Media contacts:
Ian McMurray
GE Intelligent Platforms
Phone: +44 (0) 1327 322821
Email: ian.mcmurray@ge.com