Product News: Computer Hardware & Peripherals
Rugged XMC SBC brings ARM architecture to harsh environments.
Press Release Summary: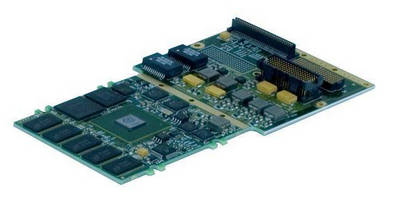 June 2, 2014 - Based on Marvell® ARMADA™ XP multicore processors, XMCM01 suits environments where size, weight, and power are constrained. XMC form factor lets end-users create purpose-designed carrier boards for unique applications and utilize diverse drop-in CPU core and memory options. Along with up to 2 GB DDR3 SDRAM with ECC, features include x4 PCIe™ via P15 connector, I/O via P16 connector, three 10/100/1000BASE-T Ethernet ports, 3 RS232/422 UARTS, 2 SATA ports, 3 USB 2.0 ports, and 8 GPIO ports.
Original Press Release
New Single Board Computer from GE Intelligent Platforms Brings Benefits of ARM Architecture to Harsh Environments
Press release date: May 20, 2014
Rugged XMCM01 features ARMADA™ XP processor for minimal power consumption
XMC form factor brings small size, low weight for challenging applications
Enables customers to create modular, easily-upgradable solutions

HUNTSVILLE, AL.—GE Intelligent Platforms today announced the rugged XMCM01 single board computer (SBC) in the XMC form factor. Based on the Marvell® ARMADA™ XP (Extreme Performance) series of multicore processors, the XMCM01 is designed to deliver high performance in a broad range of harsh environments, especially in military/aerospace, in which size, weight and power (SWaP) are highly constrained such as small form factor C4I (Command, Control, Communications, Computers and Intelligence) applications.

The XMC form factor provides customers with maximum flexibility, enabling them to create purpose-designed carrier boards for unique applications, and take advantage of a 'drop in' processing capability. Because the XMCM01 is offered with a range of CPU core and memory options, it allows for a highly modular, upgradable design that enables straightforward technology insertion, or for the same carrier board to feature different levels of processing power according to the demands of the application.

Optionally available, to make customer development easier and less expensive, and allow the final solution to be brought to market in the shortest time possible, is the MCC601 6U CompactPCI™ carrier card. (This does not need a 6U CompactPCI chassis to function, as it can be powered via an on-board ATX connector.)

"The ARM architecture has become an industry standard in applications where high performance, small size, low weight, low power consumption and low heat dissipation are important, such as cell phones and tablets," said Chris Lever, General Manager, Military & Aerospace Products, GE Intelligent Platforms. "Billions of these devices have been deployed worldwide, and the announcement of the XMCM01 allows customers looking to deploy embedded computing in the most challenging environments to take advantage of the unique characteristics of the technology."

The Marvell ARMADA XP CPU is equipped with up to four ARMv7-compliant 1.6 GHz CPU cores and 2MBytes L2 cache. With advanced power management and waking options, this CPU enables the XMCM01 to maintain a high level of performance within a low power envelope.

The XMCM01 provides up to 2GBytes of DDR3 SDRAM with ECC, x4 PCI Express™ via the P15 connector, a wide range of I/O via the P16 connector (with an option for I/O on the P14 connector for PMC users), three 10/100/1000BASE-T Ethernet ports, three RS232/422 UARTS, two Serial ATA (SATA) ports, three USB 2.0 ports and eight GPIO ports.

For more information:

About GE Intelligent Platforms
GE Intelligent Platforms is a General Electric company, headquartered in Charlottesville, VA and part of GE Energy Management. The company's work in the military/aerospace segment, headquartered in Huntsville, AL, and Towcester, England, provides one of the industry's broadest ranges of high performance, rugged, SWaP-optimized embedded computing platforms. Backed by programs that provide responsive customer support and minimize long term cost of ownership for multi-year programs, GE's solutions are designed to help customers minimize program risk and cost, and to speed time-to-market. For more information, visit defense.ge-ip.com.

About GE

GE (NYSE: GE) works on things that matter. The best people and the best technologies taking on the toughest challenges. Finding solutions in energy, health and home, transportation and finance. Building, powering, moving and curing the world. Not just imagining. Doing. GE works. For more information, visit the company's website at www.ge.com.

For more information: http://defense.ge-ip.com/products/xmcm01/p3741

For more technical information: http://defense.ge-ip.com/download/xmcm01-product-data-sheet/13721/3741/

A high res image can be found at: www.genewscenter.com/ImageLibrary/detail.asp?MediaDetailsID=6748

Marvell and ARMADA are registered trademarks of Marvell. PCI Express is a trademark of PCI-SIG. All other trademarks are the property of their respective owners.

Related downloads
The GE Intelligent Platforms XMCM01 rugged single board computer (SBC)  in the XMC form factor
The GE Intelligent Platforms XMCM01 rugged single board computer (SBC) in the XMC form factor GE

Media contacts:
Ian McMurray
GE Intelligent Platforms
Phone: +44 (0) 1327 322821
Email: ian.mcmurray@ge.com