Product News: Display & Presentation Equipment
Rugged Touchscreen LCDs suit aerial sureillance applications.
Press Release Summary: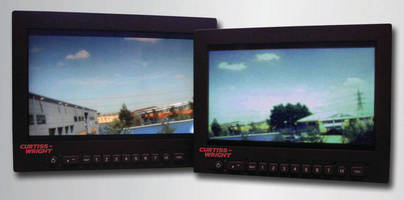 July 23, 2014 - With fully bonded optical construction, sunlight readability, and full night vision compatibility, 12.1 in. AVDU3000 and 14.1 in. AVDU3600 feature control and video handling capabilities suited for such airborne law enforcement applications as surveillance, patrol, and search and rescue. Functionality lets flight crewmembers control aircraft video recorders and video switches without diverting their eyes from screen. VMS compatibility is enhanced via built-in support for multiple video inputs.
Original Press Release
Curtiss-Wright Launches Enhanced Family of Rugged LCD Touchscreen Displays at ALEA 2014
Press release date: July 16, 2014
ALEA 2014 (Booth #228), PHOENIX, Ariz. – Curtiss-Wright Corporation (NYSE: CW) today announced that its Defense Solutions division has introduced an improved and enhanced family of high reliability, feature-rich, rugged touchscreen LCD displays specially designed for use aboard airborne surveillance platforms. The displays speed and simplify the integration of HD video for use by airborne surveillance crew members. The AVDU3000 is a 12.1" LCD display and the larger AVDU3600 is a 14.1" LCD display. Both displays feature sophisticated control and video handling capabilities designed specifically for the unique demands of airborne law enforcement applications such as surveillance, patrol and search & rescue. Use of these user-configurable touchscreen displays enables flight crewmembers to control the aircraft's video recorders and video switches without having to divert their eyes from the screen.

Together with Curtiss-Wright's AVDU4300 17" LCD display, already deployed successfully on a number of platforms worldwide, these displays deliver new levels of reliability, flexibility and quality, including superior fully bonded optical construction, enhanced sunlight readability and full night vision (NVIS) compatibility, to airborne platforms. When integrated with Curtiss-Wright's industry-leading Video Management System (VMS), these touchscreen-enabled displays combine deliver built-in support for multiple video inputs controlled by hard buttons on the bezel and configurable soft buttons overlaid on the display, without requiring costly hardware variants.

"We've enhanced the reliability and feature set on our industry-leading touchscreen HD LCD displays, built rugged from the ground up for optimal performance in airborne surveillance applications," said Lynn Bamford, Senior Vice President and General Manager, Defense Solutions division. "Even better, we've reduced delivery times to ensure that police helicopter system integrators can get their new surveillance system designs up in the air as rapidly as possible."

Ideal for Airborne Video Surveillance

Curtiss-Wright's high-resolution rugged mission displays are designed to maximize mission effectiveness by enabling operators to select one or more video streams for simultaneous display from multiple input sensors. They are designed to increase mission effectiveness on airborne platforms such as rotorcraft and light fixed-wing aircraft, as well as other platforms that must provide rugged HD touchscreen video display functionality in harsh environments, such as fast patrol boats. The displays are easily configured to an application's specific needs with simple software configuration to define mission-specific on-screen controls. In addition, each member of this new generation of displays is fully qualified to the DO-160 standard for airborne equipment, reducing the risk to system integrators of failure during commissioning or operation.

A recent white paper provides an overview of the Curtiss-Wright VMS solution featuring our advanced rugged displays.  "The Benefits of Integrated Video Management" is available for download

To view a video demonstration of how Curtiss-Wright's integrated VMS solution is deployed on the London Metropolitan Police force's helicopter fleet, click here.

For additional information on display, mission computer, networking, video management, data storage and graphics display products please visit www.curtisswrightds.com/vms.

For additional information on avionics products please visit www.cwc-ae.com.

About Curtiss-Wright Corporation
Curtiss-Wright Corporation (NYSE:CW) is a global innovative company that delivers highly engineered, critical function products and services to the commercial, industrial, defense and energy markets.  Building on the heritage of Glenn Curtiss and the Wright brothers, Curtiss-Wright has a long tradition of providing reliable solutions through trusted customer relationships. The company employs approximately 10,000 people worldwide.  For more information, visit www.curtisswright.com.

NOTE: All trademarks are property of their respective owners.

John Wranovics
Director of Public Relations
Curtiss-Wright Defense Solutions
jwranovics@curtisswright.com
Mobile: (925) 640-6402