Product News: Computer Hardware & Peripherals
Rugged Keyboard snaps onto Panasonic 10 in. tablet.
Press Release Summary: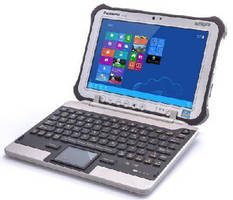 February 14, 2014 - Designed for Panasonic Touchpad FZ-G1 tablet, iKey FZ-G1 Jumpseat™ QWERTY Keyboard interfaces via tablet's USB 3.0 docking connector. Unit combines magnesium case with rubber keypad and is fully sealed to resist dirt, dust, and spills. Integrated multi-function touchpad supports advanced gesturing actions, while red multi-level LED backlighting keeps users working in low-light environments. Running on Li-ion battery for 2 months, keyboard can be recharged via tablet's USB port.
Original Press Release
iKey® Launches FZ-G1 Jumpseat(TM) Snap-in-Place Fully Rugged Keyboard for the Panasonic Toughpad FZ-G1
Press release date: February 5, 2014
AUSTIN, Texas, – iKey, the leading manufacturer of rugged keyboards and computer accessories, is pleased to announce the new iKey FZ-G1 Jumpseat™ keyboard. Designed to snap easily onto the Panasonic Toughpad FZ-G1, a rugged 10-inch Windows tablet built for mobile users, the iKey FZ-G1 Jumpseat serves as a fully rugged, on-the-go keyboard that provides additional functionality and screen protection to improve user productivity in the field. iKey's FZ-G1 Jumpseat was recently unveiled at the 2014 Consumer Electronics Show in Las Vegas.

The iKey FZ-G1 Jumpseat, a QWERTY keyboard with touchpad, interfaces via the tablet's USB 3.0 docking connector. Designed from the ground up to be rugged, the FZ-G1 Jumpseat is comprised of a magnesium case with a rubber keypad and is fully sealed to resist the dirt, dust, and spills that can ruin most keyboards. Additionally, the FZ-G1 Jumpseat keyboard includes an integrated multi-function touchpad that supports advanced gesturing actions.

iKey's FZ-G1 Jumpseat complements the Toughpad's integrated ten-point multi-touch screen and digitizer input, providing for expanded user convenience and improved typing accuracy and speed while enhancing ergonomics with uncompromised support and flexibility. The iKey FZ-G1 Jumpseat runs on an advanced Li-ion battery that lasts for two months under typical use and can easily be recharged via the tablet's USB port.  Red multi-level LED backlighting keeps users working in low-light environments. Additional functionality can be added to the FZ-G1 Jumpseat with options such as a fingerprint reader or additional full sized USB ports.

"Working in partnership with Panasonic on this solution has been a great experience for iKey", said Charlie Gibbs, Sales Manager, iKey. "Panasonic brings a wealth of experience in mobility and continues to be a market leader with the Toughpad line. Being able to collaborate and leverage each other's strengths has created a solution that gives additional flexibility to mission critical applications in Enterprise, Government, Healthcare and Retail applications."

"With more workers going mobile and depending on tablets in a range of challenging environments, a keyboard built to be as reliable as our Toughpad tablets can be an essential component of workers' toolboxes to ensure they can maximize productivity anywhere in the field," said Dan Diliberti, Senior Product Marketing Manager, Tablets, Panasonic System Communications Company of North America. "Panasonic and iKey share a commitment to the value that true mobility requires durability, and we're excited to make this accessory available to our customers."

The Panasonic Toughpad line is the world's most comprehensive portfolio of enterprise-focused tablets. With tablets ranging from 7 to 20 inches in size, all with unique design and security features to enable maximum productivity and long-term value, Toughpad tablets are built to connect mission critical workers with the data they need to do their jobs anywhere, at any time.

Panasonic's 10-inch Toughpad FZ-G1 is a fully rugged tablet PC featuring an Intel® Core™ i5 processor and Windows 8.1 Pro, enabling workers to achieve desktop-class performance in the field. The tablet is tested to meet MIL-STD-810G specifications for drops/falls, shock, vibration, altitude, humidity and extreme temperatures; as well as IP65 standards for rain and dust resistance. Other enterprise-grade features include a daylight-viewable screen, user-replaceable battery, a heightened level of security and a high degree of configuration options.

Together, the 10-inch Toughpad FZ-G1 and the FZ-G1 Jumpseat keyboard offer the most robust detachable rugged computer solution on the market.  This product will be available through Panasonic in February 2014. For more information, visit www.ikey.com/panasonic/.

About iKey, Ltd.: iKey designs and manufactures rugged, sealed keyboards, displays and pointing devices for industrial, public safety, medical and military applications. A pioneer in its industry since 1989, iKey is known as an innovator of industrial keyboards and computer accessories. For more information, visit www.ikey.com.

CONTACT:
Michael Hardy
(512) 837-0283
michael@iKey.com  
www.iKey.com