Product News: Computer Hardware & Peripherals
Rugged Dual 4GSPS Transceiver Card targets C4ISR applications.
Press Release Summary: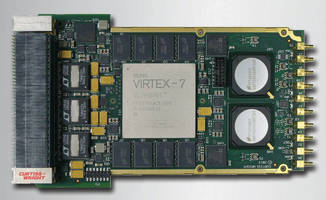 August 27, 2014 - Along with 12-bit ADC configurable with two 4 GSPS channels or four 2 GSPS channels, VPX3-530 dual-channel ADC/DAC engine provides 2 channels of 14-bit DAC data conversion at up to 5.6 GSPS. This SWaP-optimized, 3U OpenVPX™ transceiver card provides user-programmable Xilinx® Virtex®-7 FPGA to couple ADC and DAC channels, which minimizes latency between inputs and outputs. To form array of synchronized analog inputs, card can be scaled for multi-board, multi-channel synchronization.
Original Press Release
Curtiss-Wright Now Shipping Next-Generation Dual 4GSPS Transceiver Card for C4ISR Applications
Press release date: August 20, 2014
ASHBURN, Va. – Curtiss-Wright Corporation (NYSE: CW) today announced that its Defense Solutions division has begun volume production shipment of its industry leading VPX3-530 dual channel ADC/DAC engine. The rugged low-latency transceiver module's 12-bit ADC can be configured with either two (2) 4 GSPS channels or four (4) 2 GSPS channels. In addition the VPX3-530 provides two (2) channels of 14-bit DAC data conversion at up to 5.6 GSPS on a single, SWaP-optimized 3U OpenVPX™ card. This next generation transceiver card provides a user programmable Xilinx® Virtex®-7 FPGA to couple the ADC and DAC channels, which results in very low latency between inputs and outputs for efficient sense and response performance required by Electronics Warfare (EW) applications. The compact, highly responsive VPX3-530 can easily be scaled for multi-board, multi-channel synchronization to form an array of synchronized analog inputs, a critical feature for applications such as SIGINT/Direction Finding (DF) or other applications that require beamforming. Designed for embedded digital receiver applications deployed in harsh defense and aerospace environments, the VPX3-530 is ideal for use in EW, base stations, ground and airborne applications including SIGINT, ELINT, SDR (Software Defined Radio), Radar Warning Receivers, and ECM Radar.

"We've seen great interest from customers in the combined high data conversion rates and channel density that our VPX3-530 delivers in a single small form factor 3U VPX card," said Lynn Bamford, Senior Vice President and General Manager, Defense Solutions division. "With its mix of high-speed, high performance, low latency transceivers and powerful user programmable FPGA resources this next generation ADC/DAC engine breaks new ground for performance SWaP-constrained C4ISR applications."

Quick Start Kit Speeds Application Development

To help system designers to rapidly prototype their rugged high-speed transceiver applications, Curtiss-Wright also offers a low-cost VPX3-530 Quick Start Kit (QSK). The QSK includes an air-cooled desktop system (OF-SMART3 3U OpenVPX™ Development Chassis) pre-configured with a Curtiss-Wright VPX3-1257 rugged, high performance 2.1 GHz Intel® Quad-Core™ i7 3U OpenVPX single board computer (SBC).

Software Support

Software support for the VPX3-530 includes Curtiss-Wright's FusionXF Development Kit, which provides software, HDL and utilities complete with examples for using the VPX3-530. FusionXF includes a C programming language API, driver framework and sophisticated DMA support. One of the core elements to the FusionXF development kit is a framework that speeds and eases the addition of new IP functionality or capabilities to the FPGA. Software utilities are also provided for configuring the FPGA. These include flash programming and configuring the FPGA from one of many indexed images in flash memory. FusionXF supports Wind River® VxWorks® and Linux Fedora operating environments. Additional operating systems, such as Windows®, or other distributions can be considered on request.

Rugged Build Options

The VPX3-530 is offered with a wide range of ruggedization configurations, including commercial, air-cooled rugged and conduction-cooled. Contact Curtiss-Wright for details.

The VPX3-530 complements Curtiss-Wright's broad family of rugged COTS modules, such as the Intel CPU-based VPX3-1257 and the Freescale® CPU-based VPX3-131 single board computers.

About Curtiss-Wright Corporation
Curtiss-Wright Corporation (NYSE:CW) is a global innovative company that delivers highly engineered, critical function products and services to the commercial, industrial, defense and energy markets. Building on the heritage of Glenn Curtiss and the Wright brothers, Curtiss-Wright has a long tradition of providing reliable solutions through trusted customer relationships. The company employs approximately 10,000 people worldwide. For more information, visit www.curtisswright.com.

Note: All trademarks are property of their respective owners.

John Wranovics
Director of Public Relations
Curtiss-Wright Defense Solutions
jwranovics@curtisswright.com
Mobile: (925) 640-6402