Product News: Computer Hardware & Peripherals, Controls & Controllers
Rugged COM Express Type 6 Module features removable memory.
Press Release Summary: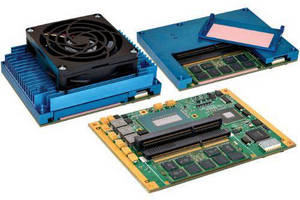 May 29, 2014 - Designed for defense, aerospace, and industrial applications, XCOM-6400 is available with 4th-generation Intel® Core i7 (2.4GHz, 47W) or i5 (1.6GHz, 25W) Haswell CPU and Intel 8-Series QM87 PCH chipset. SODIMM hold-down method ensures secure connections while letting users remove/upgrade memory, and heat management technologies include conduction-cooled rails, heat spreader plates, as well as optional cooling fins and fan. Dual memory slots that support up to 16 GB high-speed DDR3L.
Original Press Release
Acromag's New Rugged COM Express Type 6 Modules Feature Intel Core i7/i5 4th-Gen CPUs and Removable Memory
Press release date: May 20, 2014
Acromag's new XCOM-6400 is a ruggedized COM Express module offering high-performance, low-power multi-core processors and a unique SODIMM hold-down that allows users to upgrade memory

WIXOM, Mich. – Acromag's XCOM-6400 COM Express Module provides a high-performance processor in a package that is small, light, and very power-efficient. The XCOM-6400 is a Type 6 Basic COM Express module that is available with a choice of Intel's 4th-generation Core i7 or i5 Haswell CPU and Intel's 8-Series QM87 PCH chipset, formerly known as Lynx Point. The XCOM-6400 provides heat sink capabilities not available on traditional COM Express designs. Conduction-cooled rails establish a new design opportunity for carrier cards. An innovative SODIMM hold-down method ensures secure connections while still allowing users to remove or upgrade the memory.  Additional heat management technologies include heat spreader plates plus options such as cooling fins and a fan.  Ruggedly designed for use in defense, aerospace, and industrial applications; this COM Express module features an extra-thick circuit board, advanced thermal management, and extended operating temperature ranges.

"This module sets a new standard for thermal management, shock and vibration by implementing a combination of conduction cooling rails and SODIMM hold down mechanism. Soldering down the memory is no longer necessary," explained Joseph Primeau, Acromag's sales and marketing director. A screw-down latch securely fastens the memory in place to prevent it from shaking loose and also serves as a conduction plate to help wick away heat. Removing the latch provides user access to two memory slots that support up to 16GB of high-speed DDR3L available in 1 x 4GB, 2 x 4GB, and 2 x 8GB configurations.

The 4th generation of Intel's Core i5 and i7 processors (codename Haswell) delivers many enhanced capabilities for media, graphics, security, and power management. Huge performance improvements were made for floating-point-intensive computations which are critical for digital signal and image processing applications like radar and sonar. Enhanced graphics enable smoother playback of high-quality images. Better power efficiency reduces heat and allows smaller, lighter, more portable designs. Acromag offers a high-performance quad core i7 CPU (2.4GHz, 47W) and more efficient dual core i5 CPU (1.6GHz, 25W).

The platform controller hub is Intel's 8-Series QM87 PCH chipset (codename Lynx Point) which provides faster connectivity and flexibility with integrated I/O technologies. For graphics, the module uses an Intel integrated graphics processor with support for a 3x digital display interface (DVI or DisplayPort) and eDP interface (x2). Audio is supported through an HDA interface. The LAN Port is a Gigabit Ethernet Medium Dependent Interface (MDI). Other I/O interfaces include four SATA III ports (6 Gb/s), a PEG / general-purpose PCIe x16 interface with bifurcation/trifurcation support, four USB 3.0/2.0 ports, and four USB 2.0 ports. Users can access the SPI bus, LPC bus, SMBus (system), and I2C (user). There are also four general-purpose outputs and four general-purpose inputs. Security and encryption capabilities are facilitated through use of a Trusted Platform Module (TPM).

About Acromag

Acromag has designed and manufactured measurement and control products for more than 50 years. They are an international corporation with a world headquarters near Detroit, Michigan and a global network of sales representatives and distributors. Acromag offers a complete line of embedded I/O products including bus boards, mezzanine modules, wiring accessories, and software. Industries served include military, aerospace, manufacturing, transportation, utilities, and scientific research laboratories.

www.acromag.com

All trademarks are the property of their respective owners.

CONTACT:
Karen Haldenwanger
Marketing Manager
Acromag, Inc.
Phone: 248-295-0866
khaldenwanger@acromag.com