Product News: Computer Hardware & Peripherals
Rugged 6U VPX SBC combines processing power, graphics, security.
Press Release Summary: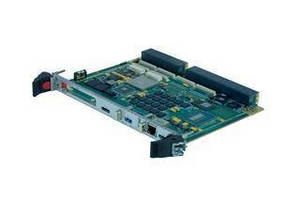 June 27, 2014 - Designed for harsh environments and to help minimize SWaP in deployed subsystems, SBC626 includes optional Security Hub FPGA that combines passive and active features for development of on-board anti-tamper capability. Included 4th generation quad-core Intel® Core™ i7 CPU supports PCIe® Gen3 technology and USB 3.0, promoting available bandwidth for on- and off-board connectivity. SBC addresses command/control applications as well as more demanding signal processing requirements.
Original Press Release
New Rugged Single Board Computer from GE Intelligent Platforms Features More Processing Power, Improved Bandwidth, Enhanced Graphics and Superior Security
Press release date: June 18, 2014
SBC626 6U VPX SBC designed for harsh environments
Can make important contribution to reducing size, weight and power (SWaP)
Provides cost-effective upgrade path for existing customers

HUNTSVILLE, AL. — GE Intelligent Platforms today announced the SBC626 rugged 6U VPX single board computer (SBC). Featuring the latest quad-core 4th generation Intel ®Core™ i7 processor ('Haswell'), it will provide outstanding performance per watt while helping to minimize size, weight and power (SWaP) in deployed subsystems – making it ideal for constrained environments such as manned- and unmanned vehicles.

The SBC626 is the fourth product featuring Intel's latest processor to be announced by GE Intelligent Platforms. The range now includes 3U and 6U platforms featuring VME as well as VPX.

Delivering enhanced processor performance, improved graphics performance, superior connectivity and upgraded security within the same power envelope as previous generations of GE's SBC family will allow the SBC626 not only to address existing command/control applications, but also more demanding signal processing requirements such as ISR (intelligence, surveillance and reconnaissance), sonar and radar as well as demanding industrial and commercial applications.

The SBC626 will also be attractive to existing customers, as it is form, fit and function compatible with earlier models, providing a straightforward, cost-effective technology insertion opportunity that will enable customer systems to benefit from Intel's newest processors. This is in line with GE's continuing commitment to maximizing the value of customer investments.

"The SBC626 allows customers to do more with less – more processing power, more bandwidth, more graphics capability that can enable fewer slots to be used and potentially make an important contribution to reducing size, weight and power," said Chris Lever, General Manager, Embedded Product Management at GE Intelligent Platforms. "That allows subsystems to deliver more capability with the same size, weight and power, or to deliver a level of capability that previously required more size, weight and power."

The SBC626 includes an optional Security Hub FPGA. The FPGA combines a mix of passive and active features to allow customers to develop a robust on-board anti-tamper capability.

The new single board computer benefits from the 4th generation Intel Core i7 processor's support of PCI Express® Gen3 technology and USB3.0, providing even greater bandwidth for on-board and off-board connectivity and enabling the high bandwidths required by today's applications. In particular, this high performance PCI Express interface makes the new products ideal hosts to drive GE's GPGPU boards, such as the IPN251 and NPN240.

The SBC626 provides support for AXIS, GE's Advanced Multiprocessor Integrated Software development environment, which is designed to significantly reduce the complexity, time and cost of developing sophisticated applications.

About GE Intelligent Platforms
GE Intelligent Platforms is a General Electric company, headquartered in Charlottesville, VA and part of GE Energy Management. The company's work in the military/aerospace segment, headquartered in Huntsville, AL, and Towcester, England, provides one of the industry's broadest ranges of high performance, rugged, SWaP-optimized embedded computing platforms. Backed by programs that provide responsive customer support and minimize long term cost of ownership for multi-year programs, GE's solutions are designed to help customers minimize program risk and cost, and to speed time-to-market. For more information, visit defense.ge-ip.com.

About GE
GE (NYSE: GE) works on things that matter. The best people and the best technologies taking on the toughest challenges. Finding solutions in energy, health and home, transportation and finance. Building, powering, moving and curing the world. Not just imagining. Doing. GE works. For more information, visit the company's website at www.ge.com.

For more information: http://defense.ge-ip.com/products/sbc626/p3743

For more technical information: http://defense.ge-ip.com/download/sbc626/13733/3743/

A high res image can be found at: www.genewscenter.com/ImageLibrary/detail.asp?MediaDetailsID=6860

Intel is a registered trademark, and Core is a trademark, of Intel Corporation. PCI Express is a trademark of PCI-SIG. All other trademarks are the property of their respective owners.

Related downloads
The GE Intelligent Platforms SBC626 rugged 6U VPX single board computer features the latest quad-core 4th generation Intel ®Core™ i7 processor ('Haswell')
The GE Intelligent Platforms SBC626 rugged 6U VPX single board computer features the latest quad-core 4th generation Intel ®Core™ i7 processor ('Haswell') GE

Media contacts:
Ian McMurray
GE Intelligent Platforms
Phone: +44 (0) 1327 322821
Email: ian.mcmurray@ge.com