Product News: Material Handling & Storage, HVAC
Rotary Screw Compressors increase output via design.
Press Release Summary: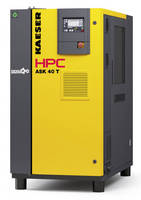 April 29, 2014 - Suited for stationary applications, ASK Series includes models for free air deliveries from 0.79–4.65 m³/min. Sigma Profile airends, cooling concept, and IE3 motors maximize performance. Standard features include integrated Sigma Control 2 controller, IE3 motors, and radial fan (with its own dedicated motor) as well as optional frequency control and/or integrated refrigerant dryer. To facilitate servicing, design allows all maintenance parts to be accessed from one side.
HPC Compressed Air Systems
Original Press Release
HPC Kaeser Introduces New ASK Series
Press release date: April 16, 2014
Compact and refined, but with significantly more power than comparable products, HPC KAESER's new generation ASK Series Rotary Screw Compressors make their market debut this spring.  These innovative compressors not only deliver more compressed air with more savings, but also impress with their user-and-service-friendly design.

ASK rotary screw compressors are true leaders in their class when it comes to stationary compressed air applications.  Thanks to further refined Sigma Profile airends, an innovative cooling concept and high-efficiency IE3 motors, these cutting-edge air compressors perform up to 20% better than many comparable products on the market.

ASK models are available for free air deliveries from 0.79 to 4.65 m3/min (27.9 to 164 c/m) and feature optional frequency control and / or an integrated refrigerant dryer.  The integrated Sigma Control 2 controller provides efficient and intuitive control, while the energy-saving IE3 motors and radial fan (with its own dedicated motor) keep costs for energy use to a minimum.

The new ASK models also impress with their logical, user-friendly design, which allows all maintenance parts to be conveniently accessed from one side for easy servicing. Moreover, when closed, the enclosure with its sound-dampening insulation ensures quiet and unobtrusive operation.

Further information is available from:
Mark Sharman
HPC Compressed Air Systems            
Victoria Gardens, Burgess Hill
West Sussex, RH15 9RQ, UK       
mark.sharman@hpcplc.co.uk
www.hpccompressors.co.uk
Tel: +44 (0) 1444 241671