Product News: Packaging Equipment, Robotics
Robotic Packaging Systems promote safety for food producers.
Press Release Summary: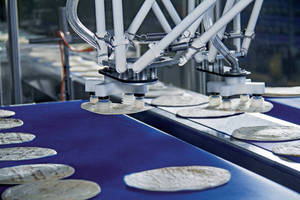 May 16, 2014 - Delfi, used for feed placing into primary packaging, and Paloma, used for placing into primary or secondary packaging, are vision guided solutions that feature GD33 Delta robot in open frame design. With its 3 kilo payload capability and speed, robot promotes productivity and application versatility. It can integrate with Gemini 4 control and software platform, and access to main components facilitates maintenance. Hygienic design with stainless steel frame option is also available.
Original Press Release
Bosch Launches Next Generation of Delta Robotic Packaging Solutions
Press release date: May 8, 2014
New GD33 Delta robot offers increased performance and lower total cost of ownership
Harmonized frame design for improved hygiene and ease of use
Standardized robot and frame layout reduces maintenance, cleaning and changeover time

Duesseldorf, Germany — To address the growing demand for enhanced hygiene levels and ease of use, Bosch Packaging Technology, a leading supplier of processing and packaging solutions, will launch advancements of its robotic packaging machine portfolio at Interpack 2014. Delfi for feed placing into primary packaging and Paloma for placing into primary or secondary packaging, both vision guided solutions, now feature the new GD33 Delta robot in a new open frame design for expedited cleaning and simplified operations, enhancing efficiency. This new generation Delta robot improves productivity through higher speed and payload, robust performance, broader application range and reduced maintenance time. Both developments are designed to help food producers lower the total cost of ownership (TCO) of primary and secondary packaging equipment and promote food safety.

Simplified design for lower TCO

The new GD33 Delta robot incorporates standard off-the-shelf drive elements and now has 60 percent fewer components than its predecessors which reduces spares stock holding. Maintenance time is also reduced through ease of access to the main components. The GD33 robot offers higher speed, larger capacity and an improved payload capability up to three kilos. These improvements allow manufactures to increase the pick rate and extend the application range. Integrated with Bosch's Gemini 4, the fourth generation control and software platform, the GD33 Delta robot further reduces the cost per pick, ultimately lowering TCO. In addition, the GD33 features standard tool-less gripper changeover, enhancing productivity.

Hygienic design for enhanced product quality

To help food producers meet food safety requirements, the new stainless steel frame design option incorporates easy-to-clean features and gives access to the working area from both the front and rear, shortening changeover and cleaning times.

"Where consumer safety is concerned, production line hygiene is priority number one for our customers," said Roy Fraser, product manager robotics, Bosch Packaging Technology. "We took our robotic solutions to the next level to meet the hygiene requirements of our customers, while also ensuring easy operation and maintenance."

Ease of use improves operational efficiency

The harmonized frame design promotes modularity and standardization for ease of use. The new control cabinets now feature a uniform design and are positioned on top of the machine, simplifying maintenance tasks. Operators can now reach the machine's working areas more easily through front and rear access doors. This enables operators to promptly clear jams and reset the machine, decreasing downtime and improving production efficiency.

"Most of our customers employ several robotic packaging cells on the same line," said Roy Fraser. "With the latest advancements, operators can now be trained more quickly and it requires less time to maintain, set-up, changeover and reset our machines leading to more uptime, lower TCO and faster return on investment."

Bosch's new robotic packaging solutions will be a part of the Module++ line on display at Interpack 2014, Duesseldorf, Germany from May 8 to 14 in hall 6, booth A31-C58. The Module++ line links the company's proven standard modules for customized processing and packaging solutions.

Contact:
Roy Fraser
phone: +41 21 644-2567

Contact person for press inquiries:
Christin Poenisch
phone: +49 711 811-58502

Based in Waiblingen near Stuttgart, Germany, and employing 5,600 associates, the Bosch Packaging Technology division is one of the leading suppliers of process and packaging technology. At over 30 locations in more than 15 countries worldwide, a highly-qualified workforce develops and produces complete solutions for the pharmaceuticals, food, and confectionery industries. These solutions are complemented by a comprehensive after-sales service portfolio. A global service and sales network provides customers with local points of contact. Additional information is available online at www.boschpackaging.com

The Bosch Group is a leading global supplier of technology and services. In 2013, its roughly 281,000 associates generated sales of 46.1 billion euros. (NB: Due to a change in accounting policies, the 2013 figures can only be compared to a limited extent with the 2012 figures). Its operations are divided into four business sectors: Automotive Technology, Industrial Technology, Consumer Goods, and Energy and Building Technology. The Bosch Group comprises Robert Bosch GmbH and its more than 360 subsidiaries and regional companies in some 50 countries. If its sales and service partners are included, then Bosch is represented in roughly 150 countries. This worldwide development, manufacturing, and sales network is the foundation for further growth. In 2013, the Bosch Group invested some 4.5 billion euros in research and development and applied for some 5,000 patents. This is an average of 20 patents per day. The Bosch Group's products and services are designed to fascinate, and to improve the quality of life by providing solutions which are both innovative and beneficial. In this way, the company offers technology worldwide that is "Invented for life."

Additional information is available online at www.bosch.com, www.bosch-press.com and http://twitter.com/BoschPresse

© ABI 2014 All Rights Reserved