Product News: Test & Measuring Instruments, Robotics
Robot System automates NFC testing.
Press Release Summary: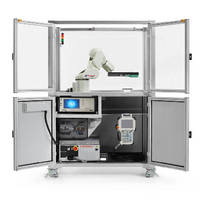 December 27, 2013 - With NFC Robot, UT³ Platform is extended to comprehensive and automated solution for RF analog testing. Six-axis Kawasaki robot supports testing of NFC devices regardless of their size or shape. This enables testing of mobile devices as well as consumer electronic goods such as TV sets. In addition, robot makes it possible to emulate natural movements such as swipe of hand to and away from reader.
Original Press Release
COMPRION Launches Robot Solution for Automated NFC Testing
Press release date: December 1, 2013
Paderborn, Germany — This is a time where a whole industry is on the verge of changing the day-to-day lives of us all by introducing NFC technology. It is anticipated that NFC will serve much more use cases, especially in the consumer electronics realm, than just enabling mobile payments. COMPRION eases the verification process of this rather complex technology with its new NFC Robot and thus helps the industry to grow faster.

NFC Forum standards harmonize quite a few related specifications to form a universal NFC ecosystem, thus enabling interoperability. An NFC Forum compliant device has to support all different NFC technologies with a large number of possible parameter sets. This becomes especially apparent when testing the RF performance at physical level. Although only about 30 test cases have been specified for the RF interface, the variety of parame-ters and antenna positions sums up to about 3,500 individual test execu-tions.

Running this vast number of test cases manually is a time-consuming effort. Even worse, it is also tedious and error prone. Thanks to COMPRION's new NFC Robot, their well-known UT³ Platform is extended to a comprehensive and automated solution for RF analogue testing. At the same time, it saves a lot of time and hence reduces costs. While other systems use self-designed robots with unknown characteristics, COMPRION integrates an industry robot that has a proven track record over a long time period. The 6-axis robot allows for the testing of NFC devices regardless of their size or shape. This also enables testing not only mobile devices but also other consumer electronic goods such as TV sets for instance. An additional benefit is the possibility to emulate natural movements like the swipe of a hand to and away from the reader.

Hajo Sandschneider, Head of NFC and Interoperability at COMPRION states, "We choose to integrate the Kawasaki robot as they have over 50 years of experience in robotics. The robot is extraordinary exact and reli-able and keeps these properties even in long-term use. This helps our cus-tomers to create precise results even after 3,500 test runs or more – not a given fact per se."

Carsten Stumpf, Senior Marketing & Sales Manager with Kawasaki adds, "Our robot is an exact fit for these challenging requirements. We are glad to be able to contribute to COMPRION's precise and reliable test solution. "

For more information, please visit www.comprion.com. 

COMPRION GmbH is the global leader in comprehensive standard test equipment for Smart Card interfaces. With 15+ years' experience in Smart Card technology, COMPRION develops, manufactures and markets test and measurement equipment for Smart Card vendors, Smart Card issuers and terminal manufacturers across a variety of market sectors and tech-nologies.

Press Contact:
Karolina Kulinski
Corporate Marketing Manager
Tel:  +49-5251-6859 158
Fax:  +49-5251-6859 999
E-Mail: Kkulinski@comprion.com