Product News: Controls & Controllers, Robotics
Robot Control System uses tablet PC for programming.
Press Release Summary: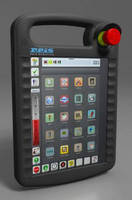 July 11, 2012 - ROBOTstar-VI control generation with reisPAD tablet format portable teach pendant lets programmer operate robot via UI and without any mechanical or electrical operating elements. Along with scratch-resistant, 10.4 in., multi-touch display, network-compatible reisPAD offers BalancedUse for right/left operation, sharePAD for use of any number of robots, and wirelessTEACH features. All functions, except Emergency-Off and permission key, can be activated via touchscreen.
Original Press Release
reisPAD: Robot programming with Tablet-PC
Press release date: June 27, 2012
Innovation of worldwide importance - Touchscreen teach pendant presents virtual operating elements
Obernburg, Germany - The reisPAD of Reis Robotics sets new standards in programming and operation of robots. Reis presents the new control generation ROBOTstar-VI with the innovative portable teach pendant reisPAD in tablet format. The programmer now operates with a user interface without mechanical and electrical operating elements. Intuitive operation will become possible by innovative, haptic elements at the edge of the screen. A large, scratch-resistant, 10.4" multi-touch display, low weight, BalancedUse for right/left operation, sharePAD for use of any number of robots and wirelessTEACH are further highlights of the reisPAD. All functions, except for Emergency-Off and permission key, can be activated via the touch screen. Furthermore, the operating surface can be adapted specifically to task and system and to the individual demand. At the same time, Reis Robotics guarantees a safe function of the system by communication with the reis SafetyController proven over many years.
"The innovation is based on an individually configurable user interface without hardware keys - except for emergency-off." Franz Som, Manager Control Development at Reis Robotics, explains. "All permanently required operating elements are placed in the form of a C-Frame on three sides of the screen. Haptic marks on the edge of the case allow to find the positions of those operating elements with one's eyes closed. Operating elements that can be generated depending on the application are mapped on the free side of the C-frame. The operating hierarchy has two levels as a maximum so that the user will always keep the context."
Test series proved that the programming time with the reisPad will be considerably reduced. The possibility to traverse the robot using virtual scrollbars, trackballs, or hand wheels is extraordinary. A reisPAD can be used for a random number of robot controls because it is network-compatible. With wirelessTEACH, Reis Robotics also offers a WLAN version as option. The reisPAD allows to indicate the complete documentation of the system and context-sensitive aids from the network.
Reis Robotics
Reis Robotics is an innovative company leading in robot technology and system integration. The Reis Robotics group with international activities has its headquarters in Obernburg/Germany and is a market leader for automation systems in the photovoltaic industry. For more than two decades Reis has been one of the most important integrators for automation systems in all major industry sectors. In addition to articulated arm robots the product range also includes linear robots, gantries, horizontal articulated arm robots and other special robots. Additional products include Try-out and Spotting Presses, as well as Trim Presses and Trim Tools.
Reis Robotics designs, delivers and installs completely integrated automation systems from one source. The company's success since 1957 is based on the great experience gained during planning and execution of turnkey automation systems. For this, Reis Robotics offers a broad product range of industrial robots (welding robots, casting robots, handling robots, laser robots, soldering robots, assembly robots, and many others), peripheral modules and services for automation solutions in all major application fields.
Further information:
Reis Robotics USA, Inc.
1320 Holmes Road
Elgin, IL 60123
847-741-9500