Product News: Packaging Equipment
Returnable Support Packaging System targets metals industry.
Press Release Summary: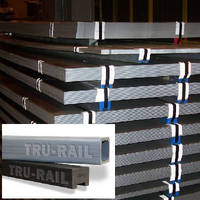 March 25, 2013 - Available in solid or hollow versions for inhouse and transit applications, TRU-RAIL RSP System comes in 1 ft increments, and may be custom-branded or labeled to facilitate returnability. Manufactured from 100% recycled HDPE engineered plastic resins, runners are utilized individually for flexible placement to support bundled sheet product. Non-absorbent, splinter-free plastic material is moisture and oil resistant, prevents rust, and provides optimal product protection.
Original Press Release
Tree Brand Offers High-Performance Runners for Metals Packaging
Press release date: March 22, 2013
Tree Brand Packaging, Charlotte, N.C., has expanded its metals industry product line with the introduction of the TRU-RAIL Returnable Support Packaging (RSP) system.  In contrast to a conventional wooden skid or platform, TRU-RAIL runners or spacers are utilized individually for flexible placement to support bundled sheet product.  Offered as a 'greener' alternative, TRU-RAIL runners are manufactured from 100% recycled HDPE engineered plastic resins to provide greater dimensional stability, and extended trip life. 

TRU-RAIL RSP is available in either 'solid' or 'hollow' versions for both inhouse and transit applications.   Tree Brand indicates that the choice of system design is determined by load capacity and bundle requirements.  Both 'solid' and 'hollow' styles can be ordered to fit the length of sheet product, and the unit load being built.  TRU-RAIL is available in 1 foot increments, and may be custom-branded or labeled to facilitate returnability.

TRU-RAIL runners are made of non-absorbent plastic material that is moisture and oil resistant, prevents rust, is splinter-free, and provides superior product protection, the company states.  These features eliminate the need for excess paper packaging, thus reducing waste disposal costs.  Because the TRU-RAIL system is based on individual component runners, it offers more space-efficient and sustainable storage, staging, and return footprints Tree Brand claims.

For more information, call 704-483-0719 or visit www.treebrand.com