Real-Time Oscilloscope features 36 GHz SiGe chipset.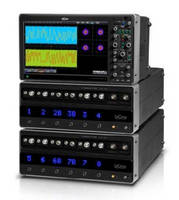 Real-Time Oscilloscope features 36 GHz SiGe chipset.
January 9, 2012 - Combining 36 GHz 8 HP silicon-germanium chipset, Digital Bandwidth Interleave technology, and LabMaster Zi ChannelSync architecture, LabMaster 10 Zi delivers 60 GHz of real-time bandwidth. Unit also provides optimal bandwidth density with up to 20 channels at 36 GHz and up to 10 channels at 60 GHz. Featuring modular architecture, oscilloscope separates signal acquisition function from display, control, and processing functions.

(Archive News Story - Products mentioned in this Archive News Story may or may not be available from the manufacturer.)
Original Press release

LeCroy Corp.
700 Chestnut Ridge Rd.
Chestnut Ridge, NY, 10977
USA



LeCroy Announces World's Fastest Real-Time Oscilloscope


LabMaster 10 Zi Delivers 60 GHz Real-time Bandwidth

Company Deploys New 36 GHz SiGe Chipset with Patented DBI (Digital Bandwidth Interleave) and ChannelSync Architecture

CHESTNUT RIDGE, N.Y., -- LeCroy Corporation (NASDAQ: LCRY), a leading supplier of oscilloscopes, protocol analyzers and signal integrity test solutions, today announced deployment of the industry's first 36 GHz 8HP silicon-germanium (SiGe) chipset. This advanced new chipset capability combines with LeCroy's patented Digital Bandwidth Interleave (DBI) technology and LabMaster Zi ChannelSync architecture to deliver 60 GHz of bandwidth in the new LabMaster 10 Zi oscilloscope, nearly double the real-time bandwidth of competitive manufacturers. The LabMaster 10 Zi oscilloscope is available in a variety of models offering bandwidths from 25 GHz to 60 GHz.

The LabMaster 10 Zi also delivers breakthrough performance in "bandwidth density," which refers to the number of fully synchronized high-bandwidth channels available to the user. The LabMaster 10 Zi provides ten times the bandwidth density of competitive solutions with up to twenty channels at 36 GHz and up to ten channels at 60 GHz.

"Our strategy has been to establish and leverage LeCroy's reputation as the performance leader in the most demanding super-high-end segment of the oscilloscope market," said LeCroy President and Chief Executive Officer Tom Reslewic. "In that market, cutting edge products are sought for the world's most demanding research and development applications. Our newly developed 36 GHz SiGe chipset, coupled with our unique and innovative DBI technology, allows us to make a significant performance leap with our new LabMaster 10 Zi series of real-time oscilloscopes."

"The LabMaster 10 Zi catapults us past our competition in terms of bandwidth and channel-count," said Reslewic. "High-end oscilloscopes often achieve high bandwidth at the expense of channel-count. For example, the highest performing competitive oscilloscopes in the market today offer only two fully synchronized channels at approximately 32 GHz bandwidth. A single LabMaster 10 Zi module provides four channels at 36 GHz bandwidth and further provides the ability to link up to five modules to provide 20 fully synchronized high-bandwidth channels. LeCroy's commitment to providing best-in-class high-end oscilloscope solutions is fully embodied in the new LabMaster 10 Zi."

The performance of LeCroy's new chipset is due to years of accumulated experience with SiGe processes. SiGe is a widely adopted, mainstream, commercial process backed by chip technology leader IBM Semiconductor. IBM's 8HP SiGe process is the fourth-generation SiGe process with two times the performance of the previous generation. 8HP SiGe provides lower electrical noise for increased performance and lower power consumption, making possible a single acquisition module with twice the high bandwidth channel density available from other manufacturers.

DBI, a proprietary, patented LeCroy technology, provides the ability to double or triple the bandwidth available in raw silicon by splitting a high bandwidth signal into multiple paths of lower bandwidth and then re-assembling the separate lower bandwidth paths into a single high bandwidth path using digital signal processing (DSP).

The LabMaster modular oscilloscope architecture separates the oscilloscope signal acquisition function from the display, control and processing functions. Up to five LabMaster 10 Zi Acquisition Modules can be fully synchronized using LeCroy's unique ChannelSync architecture, further extending LabMaster 10 Zi's industry-leading bandwidth density.

About LeCroy Corporation

LeCroy Corporation is a worldwide leader in signal integrity test solutions, creating advanced instruments that drive product innovation by quickly measuring, analyzing and verifying complex electronic signals. The Company offers high-performance oscilloscopes, serial data analyzers and global communications protocol test solutions used by design engineers in the computer, semiconductor and consumer electronics, data storage, automotive and industrial, and military and aerospace markets. LeCroy's 47-year heritage of technical innovation is the foundation for its recognized leadership in "WaveShape Analysis" - capturing, viewing and measuring the high-speed signals that drive today's information and communications technologies. LeCroy is headquartered in Chestnut Ridge, New York. Company information is available at www.LeCroy.com.

---


Start Your

Free


Subscription to


Industry Market Trends

.