Product News: Electrical Equipment & Systems, Display & Presentation Equipment
Readout and Control Units feature 1 or 2 TFT displays.
Press Release Summary: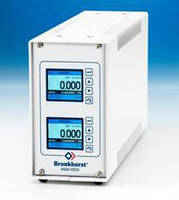 July 11, 2014 - Designed for use with digital mass flow meters/controllers, pressure meters/controllers, and other transmitters and transducers with RS232 communication, E-8000 Series Power Supply/Readout and Control Units feature 1 or 2 color TFT displays per module for indication of measured/totalized values. Pushbutton menu enables users to change setpoint, reset counter value, and select other fluids. Multi-channel configurations can be assembled in 19 in. housings, either for rack mount or tabletop.
Bronkhorst Cori-Tech B.V.
Original Press Release
New Single and Multi Channel Readout/Control Units Provide Many Features and Functions
Press release date: July 2, 2014
Bronkhorst High-Tech B.V., manufacturers of advanced mass flow metering and control systems, designed a new series of Power Supply / Readout and Control Units for use with digital Mass Flow Meters/Controllers, Pressure Meters/Controllers and other transmitters and transducers with RS232 communication. The E-8000 series have one or two colour TFT displays per module (3HE/14TE) for indication of measured/totalised values and a push button menu to easily enable the user to change the setpoint, reset the counter value, select other fluids and many functions more. Based on the modular technique of the E-8000 series, it is easy to assemble price efficient multi-channel configurations in ½ 19" and 19" housings, either for rack mount or table top. For Bronkhorst vapour delivery systems (CEM-systems) a single channel module for temperature control can be integrated with optional display and various fieldbus options.

For more information contact:

BRONKHORST HIGH-TECH B.V.
Nijverheidsstraat 1a
7261 AK RUURLO
The Netherlands

Tel.: +31 573 458800
Fax: +31 573 458808
E-mail: sales@bronkhorst.com